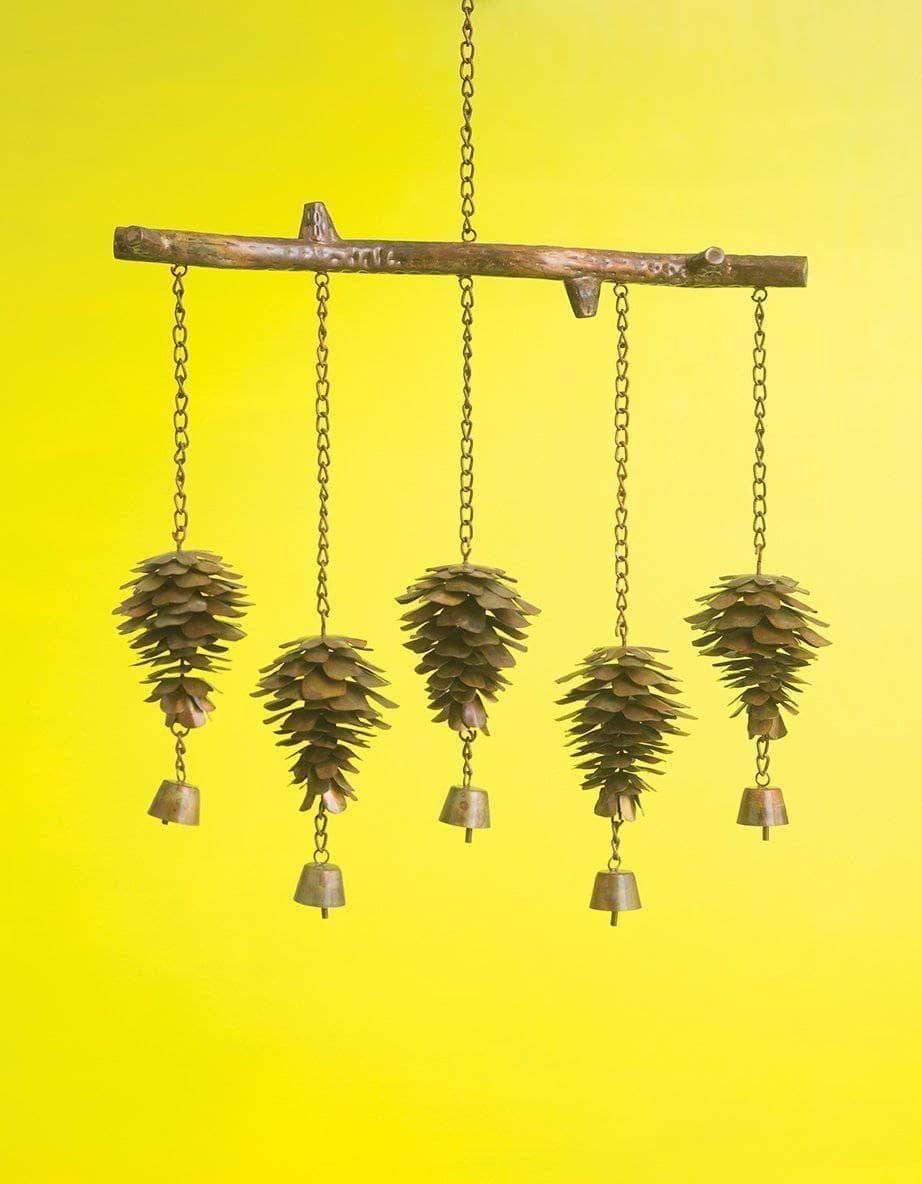 Garden Lover's Gift Guide: $50 to $100
Made your list? Checked it twice? Then it's time to start shopping. At Happy Gardens, we have many gifts for the garden lover at all price ranges. Our gift guides for items under $25 and those priced between $25 to $50 highlight great pieces for the teachers, helpers, neighbors and friends in your life.
Now, we're happy to present some handpicked pieces at a higher price point, $50 to $100. In this gift guide, we'll showcase some perfect gifts great for close friends, grown children, brothers and sisters, in-laws, parents and other loved ones.
The gifts include:
This Feather Wind Spinner

This Ultra-Unique Wind Chime

This Copper Bird Bath

This Lily-Inspired Rain Chain

This Night-and-Day Wall Decor

This Cabin-Chic Wind Chime

This Colorful, Folksy Wind Chime

This Matching Hanging Ornament
1. This Feather Wind Spinner
This 15" feather wind spinner is perfect for larger homes, gardens and yards. At over five feet tall, it's got some serious height, so we love to see it placed not far from a tree for some scale. At nearly 8 pounds, this is a sturdy spinner that can be safely staked into a backyard all season long. And it goes with everything--the flamed metal finish is basically a copper-like neutral that looks good in both traditional and modern spaces.
This handcrafted spinner is available on our Happy Gardens website for $89.99.
2. This Ultra-Unique Wind Chime
A wind chime is a classic gift, but this hanging birds version really takes it to the next level. First of all, it's just plain gorgeous. Not-quite-symmetrical and very stylish, this wind chime has an antique feel to it, making it a great gift for a more nostalgic garden lover. Detailed little leaves add even more to the piece's look and feel… and with seven bells, these birds sure sing a sweet song.
This wind chime is available on our website for $54.99.
3. This Copper Bird Bath
Bird baths make great gifts for so many reasons, especially because they are gifts not only for a special someone but also for the birds who live nearby! Well, this golden copper bird bath is no exception, with its golden plated copper finish and gracefully sculpted legs. Need an even more generous gift? Add a fountain and line the bottom with river stones… or gift a rain chain to place above the bath!  
The bird bath, with real copper finish, sells for $69.99 on the Happy Gardens website.
4. This Lily-Inspired Rain Chain
Rain chains are unique, useful and just plain pretty. This lily cup version is neutral, quaint and slightly iridescent. Rain chains originated in Japan, where they are called kusari-doi. They are still used today to keep water runoff away from the roofs of both homes and religious temples.
A great gift for just about everyone--even your family in Arizona!--this rain chain retails for $59.99 on our site.
5. This Night-and-Day Wall Decor
This sun and moon wall hanging is a Happy Gardens bestseller, and for good reason. Its blend of metals and artful construction complement just about every garden and home. Plus, this piece features really interesting, different textures--giving it a look and feel you just don't see every day. At nearly 18 inches wide, it's big enough to be noticed, but not so big it becomes a distraction.
You can purchase this item on our website for $59.99
6. This Cabin-Chic Wind Chime
This pinecone wind chime is new to Happy Gardens and it's perfect for the more rustic, outdoorsy gardener in your life. This nature-inspired piece offers artful presence via a stout branch which holds a series of five pinecones crafted of flamed metal. Affixed to each pine cone is a rustic bell for an always-pleasant, never-the-same song.
This wind chime is available on our site for $74.99.
7. This Colorful, Folksy Wind Chime
You might think three wind chimes are too many for a gift guide, but not when they're this good. This bright and cheery, whimsical heart wind chime is like a cool piece of costume jewelry for a special someone's outdoor space. Unique and funky, it includes dozens of tinkling bells that create a cheerful sound with every caress of the breeze.
This crafty gift is available for $73.99 on Happy Gardens.
8. This Matching Hanging Ornament
If you loved the colorful wind chime we just featured, you'll adore its corresponding hanging ornament, which is over four feet long. The flamed metal piece offers splashes of brilliant color, plus little bells that chime as breezes blow. It looks great hanging off a rafter or sturdy tree, and looks best in a more traditional, folksy setting.
The hanging ornament is available for $54.99 on our website.
Have more questions about gift giving? At Happy Gardens, we're here to help via phone or live chat.
About Us:
Happy Gardens is the premiere online destination for beautiful, unique garden decor and gifts. We hand-select high-quality products that are sure to be cherished by you, your family and your guests for years to come. To join our mailing list and be the first to know about our new products and awesome promotions, click here!