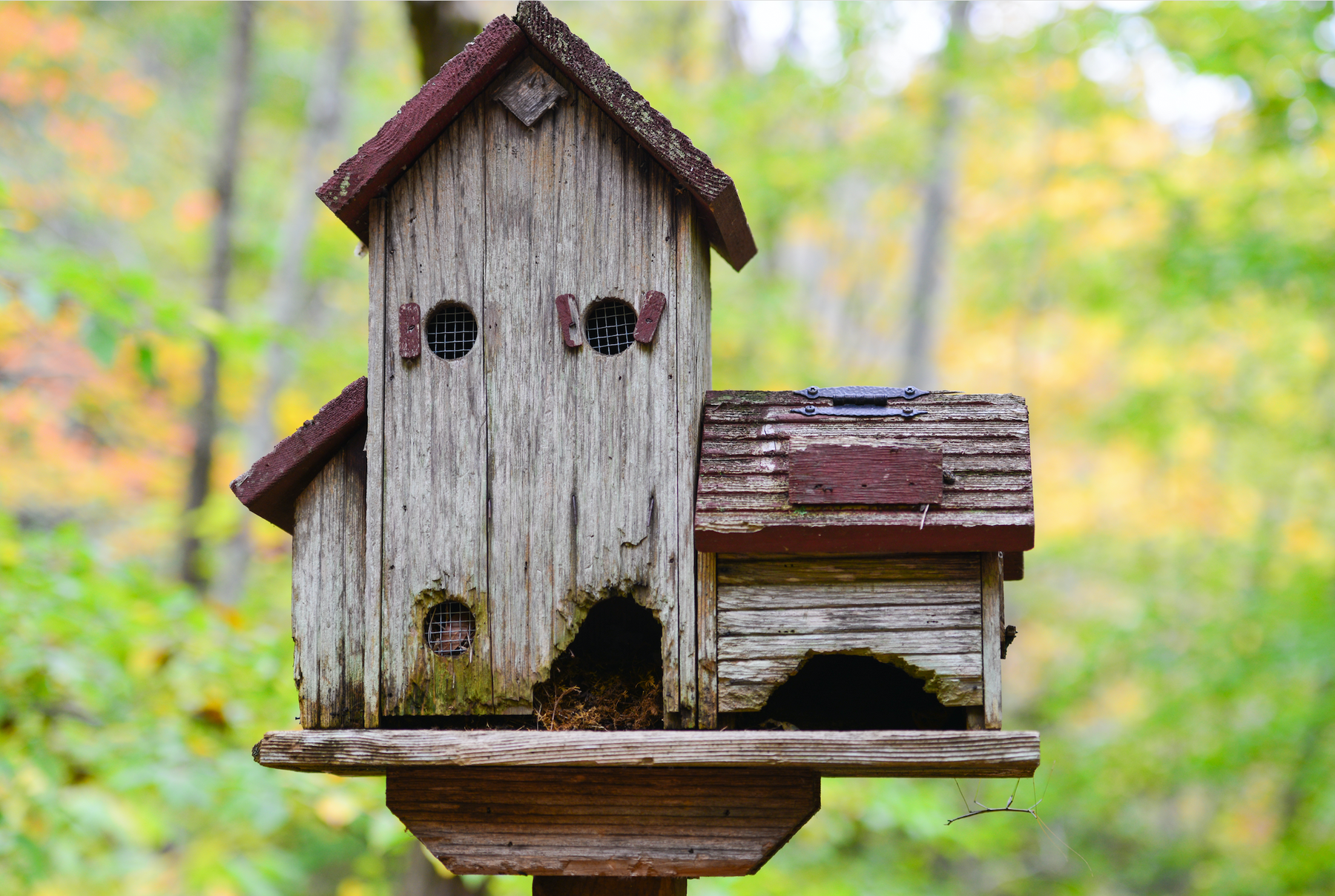 Tips for Choosing the Best Rustic Birdhouses
Rustic birdhouses are all the rage these days, and for good reason!
A vintage-inspired birdhouse instantly add charm and character to any garden while attracting birds to your backyard by providing shelter. These days, you can find a rustic birdhouse made of reclaimed barn wood, new materials, and just about everything in between.
So, how exactly do you pick the right birdhouse? If you're looking to add a shabby chic birdhouse to your yard, we have a few tried-and-true tips and tricks to share with you.
Choose a rustic birdhouse that's safe and functional
When selecting a rustic birdhouse, it can be tempting to choose a birdhouse based on appearance alone. But it is vital you select a birdhouse that is safe and functional for your feathered friends. Here are some non-negotiable features that your birdhouse should boast:
A slanted roof to prevent rain from pooling
Natural, real wood materials (if old barn wood is used, ensure it's safe!)
A properly-sized entryway that lets birds in while keeping predators out
A removable back panel so annual maintenance and cleaning is easy and effective
Unpainted insides
Safe, water-based paint on the birdhouse's exterior
One of our favorite birding tips: Different entry holes attract different birds, so if you want to see a certain type of bird in your backyard, choose your birdhouse wisely.
Select a prime location for your birdhouse
Once you've selected a safely-constructed, functional rustic birdhouse, you'll need to install it. Like all other real estate markets, it's about location, location, location. Remember, your bird house is helping provide much-needed shelter due to rampant habitat loss. Giving your local birds a safe, comfortable place to rest isn't just charming... it's important!
No matter what part of the United States you call home, keep these birdhouse placement tips in mind:
Keep the birdhouse at least 6 or 7 feet away from bird feeders and baths. Birds do not like to live in busy areas where other birds, animals or people travel.
Install your birdhouse at least five feet above ground to give your feathered friends some safety and security. Because many predators are at ground level, keeping your birdhouse elevated offers birds more security and peace of mind.
Avoid the temptation to cluster bird houses into a little village. As cute as it may be, birds prefer seclusion, even from other birds.
A couple more birding tips: A well-placed birdhouse is sure to attract a flock, so place your birdhouse wisely! And don't forget to set nesting materials near the birdhouse so they can make themselves at home.
Opt for handcrafted, unique rustic birdhouses
There are tons of beautiful birdhouses for sale, but not all birdhouses are created equal. When shopping for birdhouses, you should look for one that is high-quality, handcrafted and different from what all of your neighbors have.
At Happy Gardens, we offer an enormous selection of birdhouses--from rustic to retro--that are truly special. These birdhouses are not what you'll find at big box stores across the United States: they're better. Each birdhouse is carefully made by hand using only the finest of materials, like natural wood and safe, water-based paint. Our birdhouses have been featured in magazines such as Elle and Better Homes and Gardens, and Oprah showcased them on her 2017 Gift List.
One of our most-beloved rustic birdhouses, our sweetheart cottage birdhouse, is draped in soft blue and yellow colors, shabby-chic white trim and hand-cut flower boxes. The focal point entryway is a sweet heart cut-out.
You can find this and many other rustic birdhouses in our collection. You can also check out what your local vintage shop has for sale... but do ensure the birdhouse is still a safe, clean shelter.
Build your own safe, country-inspired birdhouse
If you want to create a one-of-a-kind birdhouse for your home and garden, there are plenty of awesome ideas for birdhouses online.
One of our favorite birdhouse ideas: shelters made of reclaimed barn wood! This upcycling trend helps produce a truly unique birdhouse with ultra-rustic results. If you plan to build a birdhouse yourself, ensure the barn wood is safe, stable and free of rot.
We also love this DIY rustic birdhouse video from Father & Son Project. The whole family works together to create a rustic-inspired birdhouse using new materials.
About Happy Gardens
Happy Gardens is the go-to destination for gifts, garden decor and merchandise for avid birders, garden lovers and home decorators across the United States. Our products have been carefully hand-selected to become a focal point of your unique outdoor space.
Whether you're looking for a rain gauge, a wind chime, or a birdhouse large or small, we have a wide variety of products that are handmade with care and backed by our limited one-year warranty.
Want to know whenever a new garden stake or birdhouse drops? Join our email list! Or follow us on Instagram for lots of rustic birdhouse inspiration from across the United States, 365 days a year!