BEST SELLER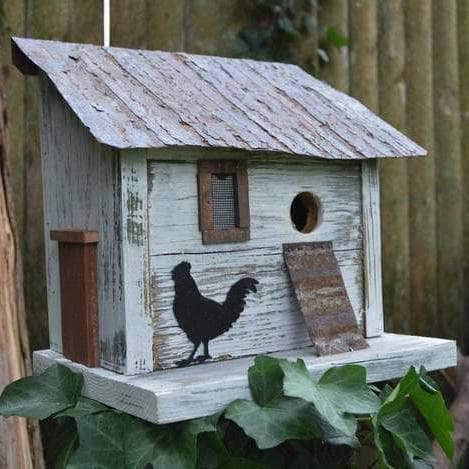 "Absolutely adorable bird house! Bought for my mom and she loves it! She really likes the easy open back for easy cleaning! Very authentic looking and well made!" - April Thurman, Happy Gardens Customer
Chicken Coop Bird House
Sale
Sale
Original price
$59.99
-
Original price
$59.99
Chicken Coop Bird House
Raising chickens in your backyard is rewarding. From chick to chicken learning to feed them and understanding what type of shelter they will need, as well as the unexpected joys they can bring. Now you can take the same approach to birding with our popular Chicken Coop Bird House design that makes for a perfect bird house.
While you won't have the responsibilities and time demands for nurturing chickens, you can enjoy birds making their nest in this handcrafted house, made from reclaimed and recycled wood. Create your own backyard eco-system built in the Amish Country PA.
Item Dimensions:  10" H x 10" W x 8" D.
Hole: 1.25"
This line has been in existence for 2 years, and is all made from reclaimed Barnwood and recycled materials (tin, and other woods).
These are rustic pieces that are fully functional, and no two pieces are exactly alike! 
The Made in America flag can be waved very prominently on all of these products.
These birdhouses are made in Eastern PA, by the Amish, without the use of electricity (using pneumatic powered tools).
These are shipped directly from our amish factory in Lancaster County, PA!