BEST SELLER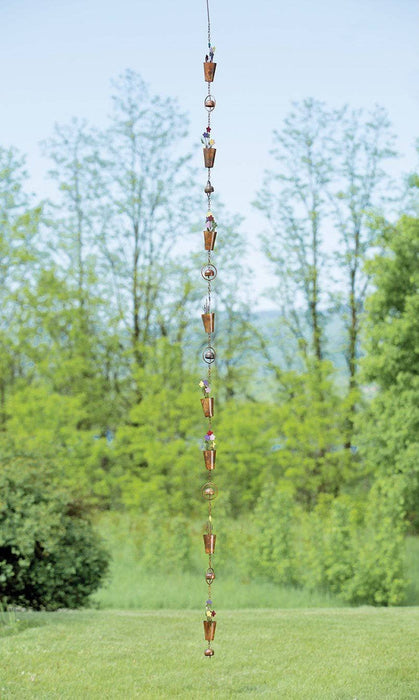 "This is just beautiful and arrived quickly. I wouldn't hesitate to buy again." - Paula B., - Happy Gardens Customer
Flower Pot Rain Chain
Sold out
Original price
$69.99
-
Original price
$69.99
Flower Pot Rain Chain
Treat any building to a whimsical touch! Our Flamed Flower Pot Rain Chain offers fantastic colors as well as beautiful flamed finishes on the bells and flower pots. Rounded bells alternate with the pots, making this rain chain double as a set of softly ringing wind chimes, so it pleases the senses no matter what the weather. Like all décor from our Happy Gardens collection, this rain chain has been individually handcrafted, and will bring lasting beauty to your landscape.
Painted metal flower accents
Contrasting flamed metal flower pots and bells
Dimensions: 2" W x 96" H
ALWAYS HANDCRAFTED

- Our rain chains are expertly crafted by hand, and it really shows. You'll notice intricate details on your rain chain you just don't encounter everyday.

EASY TO INSTALL AND CARE FOR

- Your rain chain will come with simple, easy-to-understand assembly instructions. We want you to enjoy your purchase the very same day it arrives! Plus, caring for your rain chain is a breeze and will ensure it lasts for years to come.

UNIQUE AND COMPELLING

- Like all our products, this rain chain was expertly selected by our Happy Gardens team. Why? Because it's beautiful, functional and special!

BUILT TO LAST

- As always, we've diligently ensured that this beautiful rain chain is more than just easy on the eyes! The artisans who crafted this piece have chosen top-quality, durable materials so this rain chain can weather storm after storm.

BACKED BY A NO-STRESS WARRANTY

- We offer a one-year, limited replacement warranty on our rain chains. If you are unhappy with your purchase for any reason, simply call or chat with us and we will help make it right.
Other collections you may be interested in, include our quality garden stakes and rain gauges and wind spinners for your garden.
Other popular products include: