BEST SELLER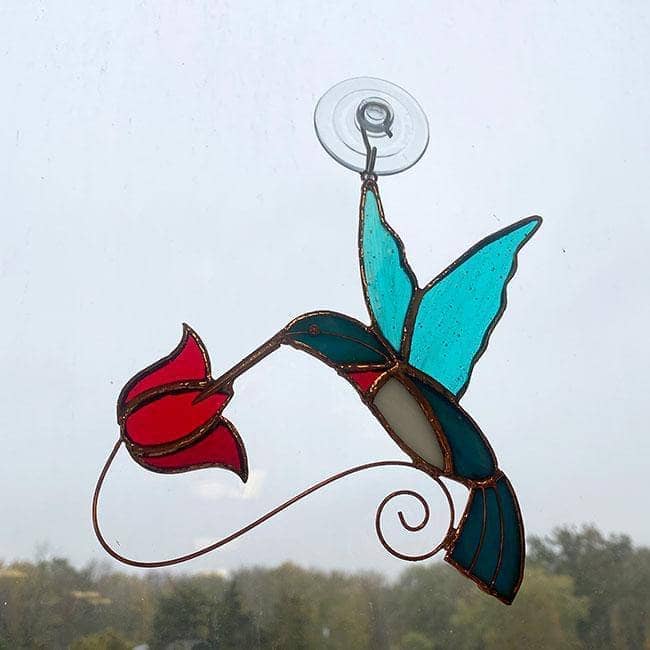 Stained Glass Hummingbird Suncatcher
Sold out
Original price
$19.99
-
Original price
$19.99
Stained Glass Hummingbird Suncatcher
Celebrate your favorite bird in your home or garden using this Stained Glass Hummingbird Suncatcher. This familiar figure brings an avian hint to any setting, while its striking colors spread throughout your home or yard for extra drama. Copper colored, soldered lines divide the hummingbird, and showcase its teal wings, light blue body, and white chest.
A small, red triangle at the neck identifies this piece as a ruby-throated hummingbird, and a copper dot acts as an eye. The bird seems to be hovering above and dining from a red flower, thanks to its extended, copper colored beak, while a swirling bottom wire completes the piece. A small loop at the top of the highest wing accommodates the included suction cup with hook, for placement on a window in moments.
Run wire or monofilament line through this hole to suspend the item from a tree for a different look. Its quality construction lasts for seasons of use, and the colors will remain vivid without scratching or peeling.
Showcase your favorite bird and enhance sunlight beautifully using this Stained Glass Hummingbird Suncatcher.

Dimensions: 7.5"W x 0.125"D x 6"H
Mounting: hang or attach to window with included suction cup
Construction: glass, metal, plastic
Shipping Weight: 1 lbs