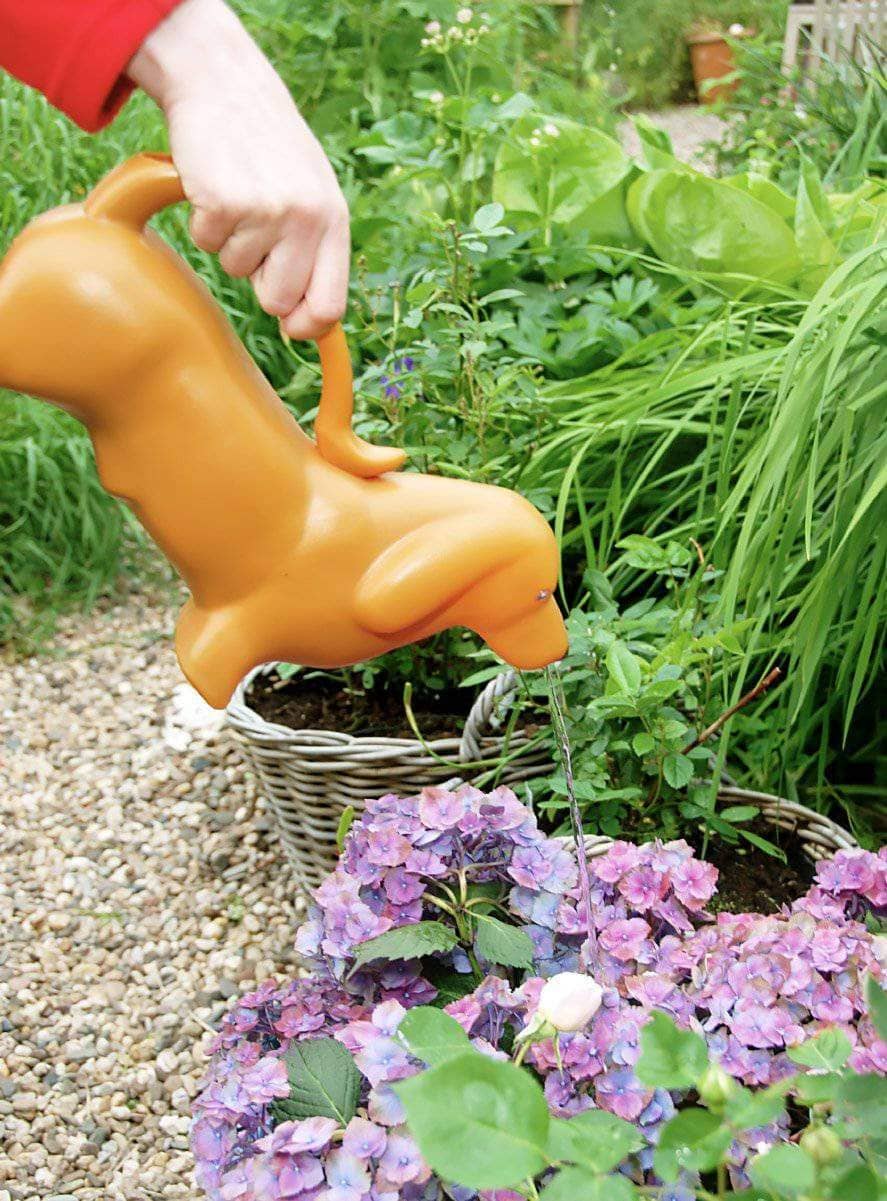 8 Wonderful, Unique Watering Cans
All too often, we choose watering cans for function over beauty, instead of searching for a can that's both useful and beautiful. At Happy Gardens, we did the work for you, sourcing a new collection of watering cans that are as delightful to look at as they are to use. 
We hope you find one⁠—or two!⁠—cans from our new collection that are the perfect fit for your home and garden. 
Vintage Watering Can

Tall Indoor Watering Can

Old Zinc Watering Can

Rubber Duck Watering Can

Dachshund Watering Can

Vintage Angular Watering Can

Elephant Watering Can

Unicorn Watering Can
1. Vintage Watering Can
Bring whimsical vintage vibes to your outdoor space in an instant with this shabby chic watering can. Perfectly distressed, this gorgeous piece has been carefully crafted to withstand daily use. Available in red, blue or green with an 8.5 liter capacity, this watering can is so good looking there's no need to hide it away in a tool shed. Display it prominently on your porch, terrace or a garden shelf.
2. Tall Indoor Watering Can
Tired of reaching awkwardly to water your beloved indoor plants? Strain no more with this ergonomically-designed, zinc-coated indoor watering can. No plant, no matter how tucked away, is out of reach with this neutral can, which is available in green, cream and grey. Plus, the smartly-crafted can features a very large opening, so you can easily fill it in your kitchen sink.
3. Old Zinc Watering Can
Ever wish you could recreate the charm of an old, English garden in your own backyard? Now you can, with this wonderfully nostalgic old-fashioned zinc watering can. Intended for everyday use, this stunning piece is easy to fill and multifunctional: the nozzle can be quickly removed to offer a direct water stream instead of rain shower effect. A charming gift for any antique lover, it's impossible to go wrong with this vintage-inspired piece. 
4. Rubber Duck Watering Can
Thought rubber ducks were just for bathtime? Think again! This bright and adorable watering can proves that rubber duckies belong in the garden, too. Choose from black, white or traditional yellow, and then get to gardening! Featuring an extra-large handle that's easy for gardeners of all sizes to grab onto, the piece adorably dispenses water through the duck's beak. 
5. Dachshund Watering Can
Pay homage to man's best friend with this adorable dachshund watering can. Cute as can be, this humorously long and short watering can is a great gift for any dog lover, even if that dog lover is you! Made from high-quality plastic that'll stand up to daily use, this watering can is sure to earn you dozens of compliments⁠—and more than a few happy barks!
6. Vintage Angular Watering Can
Another antique-store-inspired find, this perfectly distressed watering can hits all the right angles. With distinctive, sharp lines that balance out its weathered appearance, this watering can is perfect for anyone who's trying to achieve a vintage aesthetic in their outdoor space. Available in earthy green, pale turquoise and deep red, this watering can is made for daily use⁠—and for display!
7. Elephant Watering Can
Did you know that an elephant can hold up to 2.5 gallons of water in his trunk? Wow! And while it'd take a lot of convincing (and friends in high places!) to get an elephant to help you water your plants, this elephant watering can is always happy to oblige. Made of durable plastic, this heavy-duty can is sure to be a great assistant in your garden. 
8. Unicorn Watering Can

Bring magic and make-believe to your home and garden with this ultra-cute unicorn watering can. Adorable and functional, this piece is crafted from high-quality plastic to ensure years of durability. Plus, it's playful design makes it a great way to encourage children to get involved in the garden.
Still not sure which watering can is right for you? We're happy to help you pick out one that's just right via phone or live chat. 
About Us:
Happy Gardens is the premiere online destination for watering cans and garden decor that'll bring cheer and charm to your outdoor space. We hand-select high-quality products that are sure to be cherished by you, your family and your guests for years to come. To join our mailing list and be the first to know about our new products and awesome promotions, click here!