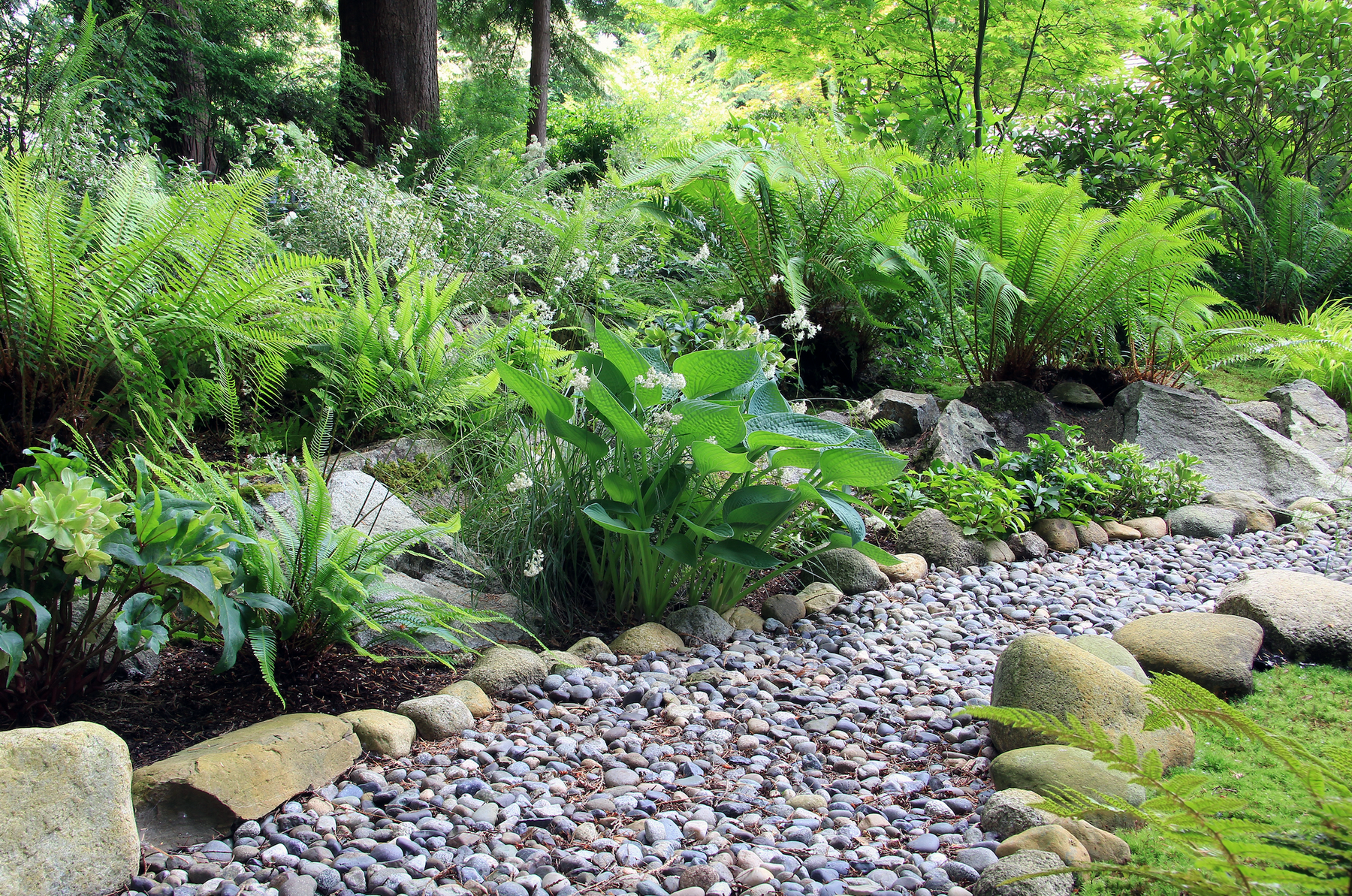 Making A Rock Garden - Our Tips & Tricks
There are plenty of reasons that rock gardens have become so wildly popular amongst garden enthusiasts. Between their aesthetic appeal and ease to both create and maintain, these garden scapes are quite the hit. But, before you get started on a rock garden of your very own, let's take a closer look at some of the basics.
In this article, we're going to dive into all there is to know about rock gardens, including what they are, how to make them, and some careful considerations to keep in mind when designing your own.
What Are Rock Gardens?
Also known as an alpine garden or a rockery, a rock garden uses stones, rocks, and boulders that are carefully arranged to create a unique garden feature. While most people think of lush green garden scapes, it's important to remember that there are other options when it comes to sprucing up your outdoor space.
One of the significant benefits of creating a rock garden is that it adds a focal piece to your garden while being a drought-tolerant option. Rocks are often underappreciated aspects of gardens, but they make for a beautiful design when placed together in a well-thought-out display.
Because rocks come in varying shapes, sizes, and colors, rock gardens are easy to integrate into any backyard, or front yard, landscaping design style. Take advantage of the primarily earthy tones of stones and rocks to help bring your garden to life.
Japanese Rock Gardens
Japanese rock gardens, also known as Zen gardens, are a specific type of rock garden used primarily for meditation practices. Historically, these gardens were created to elicit the general spirit of nature, maximizing your connection to it during meditation.
Typically, you will find a Zen garden usually consists of small stones, sand, moss, water features, and small plants.
DIY Rock Garden Ideas
While the arrangement of the rocks is essential in your rock garden, how you place them is entirely up to you. There is no right or wrong way to design a rock garden. That being said, there are a few things you'll want to do as you start the creative design process.
Be Prepared
One of the first things to consider when designing a rock garden of your own is to be prepared for the physical strength it will require. Especially in comparison to more traditional gardens, which utilize foliage or other plants, rock gardens will require more physical strength.
As such, you'll want to carefully plan out the design of your rock garden before you get started. This process will help you to potentially avoid any unnecessary heavy lifting as you rearrange some of your larger boulders.
To help you be prepared, it's best recommended to draw out a sketch of the placement of rocks in your garden, especially the larger ones.
Get Inspired
Rock gardens are an excellent way to spruce up some problem areas in your garden or naturally enhance its beauty. Look up some ideas online to get inspired, and think of specific features you'd like your rock garden to exhibit. Here are a few options to consider.
Calming Water Features
What better way to relax and be at one with nature than by incorporating a calming water feature into your rock garden? You can quickly turn your rock garden into a tranquil oasis with this added feature. Consider creating a koi pond for even added charm if you want to incorporate even more natural elements.
Xeriscaping
The specific landscape design that helps to minimize or eliminate the need for irrigation is known as xeriscaping. A rock garden is typically low maintenance, but you can eliminate the need for irrigation with xeriscaping. With this design, you can ensure if your rock garden does require water, it receives plenty of it from the climate naturally.
Wildlife Friendly
If you're considering a rock garden, it's more than likely that you are a wildlife lover. Thankfully, adding a rock garden to your yard is an excellent way to bring extra animals to your space. Common wildlife to see enjoying a rock garden pond may even include:
Dragonflies
Frogs
Turtles
For small mammals, consider adding small shrubs or creeping plants. These plants will invite critters that will have protection and places to hide if needed.
Adding flowering plants like hyssop and hummingbird mints are both drought-tolerant rock garden plants that will help to attract hummingbirds and butterflies to your yard.
When you choose plants, be sure to consider what wildlife you might be attracting with them.
Think About Your Space
Another crucial element to the design of a rock garden is the amount of space you have to work within your yard. Large areas allow for massive, sprawling designs, but your options don't end there. Thankfully, small spaces still prove to be great options for a rock garden, taking advantage of a raised rock garden bed.
Don't forget about your routine lawn maintenance and how your rock garden might impact that. You'll want to make sure that you can still easily maneuver around and that the care of the rest of your yard does not become more challenging due to the location or design of your rock garden.
Consider Your Color Scheme
When you think about rocks, you might not necessarily consider the range of colors they can come in. But, while all rocks fall within a natural color scheme, they do have ranging undertones.
Like those found in red sandstone, Redder hues can provide your garden with the pop of color you might have been missing. Just remember that if you go with a bold color like this, you'll have to be mindful when selecting your plants for your rock garden as well. More subtle red tones work great, as do complementary colors like silver, yellow, and white.
Understand Your Purpose
Lastly, you'll also want to consider the purpose of your rock garden as you begin the design process. Some rock materials, such as sandstone, are not the most durable option.
So, if longevity is a priority, you might want to consider a different rock material than sandstone. Something a little heavier duty, like granite, might be a better option for a more long-term rock garden design.
Getting back to the purpose of your rock garden, some prevalent reasons for constructing one of your own might be to:
Have a peaceful place for afternoon tea and reading
Add aesthetic value to your yard without taking up too much space
Create a spot for meditative thought and self-reflection
Thinking about the purpose will help you determine the size, for starters. Then, eventually, you will be able to reflect on your original purpose when choosing to integrate additional features within your rock garden.
How to Make Rock Gardens
Now comes the fun part! Making a rock garden of your own is quite simple. Follow these nine steps to build a rock garden of your own:
What you'll need
Gathering materials
Finding the perfect location
Planning out your design
Picking your rocks
Beginning your first layer
Adding soil
Placing your second layer
Adding rock garden plants
Keep reading for more details each step of the way to create the rock garden of your dreams.
1. What You'll Need
First, we'll start with a comprehensive list of all of the tools and materials you will need for building a rock garden. Beginning with the basics, you will need:
A wheelbarrow
A tape measure
A garden hose
A shovel
A trowel
Sandy soil
Stones
Plants
You can order stones and rocks from landscape stores and nurseries, or talk to your gardener or landscaper about ordering them for you. Our Happy Gardens shop also has a selection of stone sculptures you can add to your outdoor space, including this simple 7-stone statue.
Wheelbarrow
Large rocks and small rocks can be challenging to move around, which is why having a wheelbarrow will help you tremendously with rock gardening. As previously mentioned, building a rock garden is physically demanding, but a wheelbarrow will help you with the heavy lifting.
Tape Measure
You'll want a tape measure handing when planning out the design of your very own rock garden. While large boulders are a great addition, they are fairly permanent structures. You want to make sure that your larger rocks fit in your space before finding out the hard way.
Garden Hose
While you're still in the planning process, having a hose handy will help plan out your rock arrangements. Use the hose to outline the shape of your garden, and adjust as your rock garden requires.
If you'd like to draw out your design more specifically, check for inverted marking paint at your local home improvement store.
Shovel
A shovel is a necessary tool that will help you to lay down and prepare your soil drainage. Especially in a large rock garden, you'll want to make sure you have a shovel handy to help.
Trowel
While a shovel will help you with your heavy lifting, a mini-hand trowel will still likely be needed to help minor digging. Hand trowels are helpful tools that will assist with planting flowers or hiding rocks in the soil.
Sandy Soil
Good drainage is critical in a rock garden, so seek out tools from mother nature to help achieve this. A sandy mix will help to increase soil drainage using an organic material that's easy to find.
Stones
You can't have a rock garden without the crucial element of rocks! Thankfully, you have plenty of options to choose from, ranging from small pebbles up to giant boulders. If you're looking to integrate multiple textures, consider varying options such as:
Mossy rocks
Beach pebbles
Flagstone
Pea gravel
And don't forget about colors. While you build a rock garden, you'll want to consider finding attractive rocks that blend with your color scheme. Rocks range in colors from classic tan or gray to more abstract colors like red and blue.
Plants
While plants are not always necessary, they add a unique touch to any design. Rock garden plants tend to prefer good draining, so keep that in mind when you build a rock garden. Choose plants such as:
Succulents
Shrubs
Alpine plants
Flower beds
A low-maintenance rock garden is ideal, so you always want to opt for drought-tolerant plants. Other considerations should be the location of your new rock garden and how much sunlight it gets. You'll need to consider whether the sunlight will be sufficient for the plants you are hoping to incorporate.
2. Gathering Materials
Now that you have a better idea of what materials you're going to need, it's time to gather them all. Some places you'll likely need to visit may include:
Landscaping store
Home improvement store
Local stone suppliers
3. Finding the Perfect Location
Location, location, location! Go out into your space and figure out the best place to set up your rock garden. It doesn't necessarily have to be a flat surface, depending on the design style you are seeking. Some might opt for a natural slope or a raised bed, especially if your space is limited.
4. Planning Out Your Design
Once you've found the perfect location, it's time to draw up some of your design ideas. If you feel like you need a little extra help, you can also seek out a landscape designer. Otherwise, don't forget there is no wrong way to design and landscape a rock garden.
You ideally only want to place your bigger rocks just once, and having a design in place will help this. Smaller rocks may be simpler to move but can be burdensome if not well thought out ahead of time.
5. Picking Your Rocks
Think about the design style of your rock garden when picking your rocks.
For example, rocks like white gravel or smooth pebbles will give your garden a more formal look and calming atmosphere. Alternatively, take to other rocks, such as rugged or irregular rocks, broken bricks, or even flat slabs for a more natural appeal.
You can always add rocks as you go until you achieve the look you are going for. Random groupings may be more natural looking in the end but might not necessarily match the aesthetic you are going for.
6. Beginning Your First Layer
Now that you've got everything ready to go, it's time to start with your first layer of stones and soil. This layering process will help to provide a more elevated look throughout your rock garden.
But, if a sprawling rock garden design is what you are after, your first layer should consist of the large boulders in your collection.
For the layering, start by making a parameter with a circle of rocks to outline the design. You can use your least attractive and heaviest rocks in this layer since they will be mostly buried anyway.
7. Adding Soil
Once your first layer of rocks has been laid out, you can add them to your soil. Since you want your rock garden to be very low maintenance, you need to avoid poor drainage at all costs. The best way to accomplish well-drained soil is by using a sandy mixture.
Using your shovel, place the soil into the garden outlining. Once you've laid down this first layer, you should walk across it to help pack it into place.
8. Placing Your Second Layer
The next layer of your raised bed will use smaller stones and create a smaller circle than the base layer you have just formed. For proper layering, you'll want to ensure you have enough space for plants from one level to the next.
This second layer will use lighter rocks than the base layer since it will be easier to lift and maneuver.
If you have larger rocks that are more aesthetically pleasing, you call always integrate them into a higher layer since it is more visible. This will create a natural outcrop focal point unique to your rock garden.
9. Adding Rock Garden Plants
Lastly, it's time to accentuate your rock garden with a few plants. While colors schemes are a great way to start, there are other considerations to keep in mind when selecting the right plants, such as:
Plants that prefer good drainage
How much sunlight the plants will get
How much water do the plants require
Leaf texture
Size of the plants
Height of the plants
Plant Options for a Small Rock Garden
Specifically for smaller designs, here are a few rock garden ideas for plant options you can consider to perfectly compliments your rocks:
3 pots of candytuft
1 lamb's ear plant
3 pots of snow-in-summer
3 pots of hens and chicks
3 pots of wood spurge
1 yellow daffodil
6 pots of scots moss
You can break down your plant options even further by choosing to mix between different bulbs, perennials, and ground covers. Here are some of our favorites.
Bulbs
Bulbs are any plants whose life cycles are completed underground within their own storage structure, such as:
Shade:
Tuberous
Narcissus
Snowdrops
Caladium
Anemone
Sun:
Crocus
Tulips
Narcissus
Alliums
Iris
Perennials
Perennials are any plants that will live longer than two years, such as:
Shade:
Barrenroot
Columbine
Lungwort
Ferns
Coral bells
Sun:
Bellflower
Lamb's ear
Dianthus
Sedges
Dwarf conifers
Ground Covers
Any plants that are low-lying and have a tendency to spread or creep are known as ground covers. These plants include:
Shade:
Sweet woodruff
Vinca
Deadnettle
Ajuga
Mosses
Sun:
Ice plant
Gold alyssum
Creeping phlox
Snow-in-summer
Creeping thyme
Maintaining Your Rock Garden
Once you build rock gardens and all is well, it's essential to know how to maintain them properly. Keep your rock garden thriving by following these steps.
Watering
Always make sure the plants in your rock garden are getting ample water. The rocks can soak up heat from the sun, causing your plants to dry quickly during hot spells.
Pruning
Encourage new growth and keep your rock garden looking tidy by regularly pruning your plants.
Weeding
Similar to pruning, make sure you keep weeds out of your rock garden. Small stones, gravel, or weed-resistant fabric can help with your weed control.
Fertilizing
Lastly, make sure you know which of your plants benefit from fertilizing them, and make sure you feed them as they need.
About Happy Gardens
Whether you're looking to create a rock garden of your own or add other thoughtfully designed garden decor and merchandise, the Happy Gardens online collection is a great place to check out. Here you can find charming rain chains, handcrafted wall art pieces, or ornate bird feeders. Rest assured, you'll find exactly what you're looking for and then some at Happy Gardens. Our collection is even better because each product has been individually handcrafted and chosen with love for your enjoyment.
You can always find an expansive assortment of unique collections here at the Happy Gardens store, including our beloved and top-rated garden products. Not sure where to start? Take a look at some of our favorites, including our eye-catching garden statues, artistic rain gauges, and unique spinners perfect for decorating any outdoor space. Beyond our online garden collections, you'll also find our brand new line of merchandise jam-packed with exciting gifts available all year round for the fellow garden enthusiast in your life. With gifts perfect for any occasion, you can choose from our assortment of wine glasses, tote bags, and coffee mugs.
We like to keep things fresh at Happy Gardens, which is while you'll find that there are constantly new things popping up. Make sure you join our mailing list so that you can stay up to date on the latest and greatest. Let us know your name and email address in exchange for some excitement and countless garden tips and tricks added to your newsfeed instantaneously. You can also give us a follow on Instagram, Facebook, and Pinterest if you can't seem to get enough garden inspiration.
If you find yourself feeling overwhelmed with options, don't worry! Our garden specialists are always available to you via chat to help you design the garden of your dreams. Remember, here at Happy Gardens, we're happy to help!