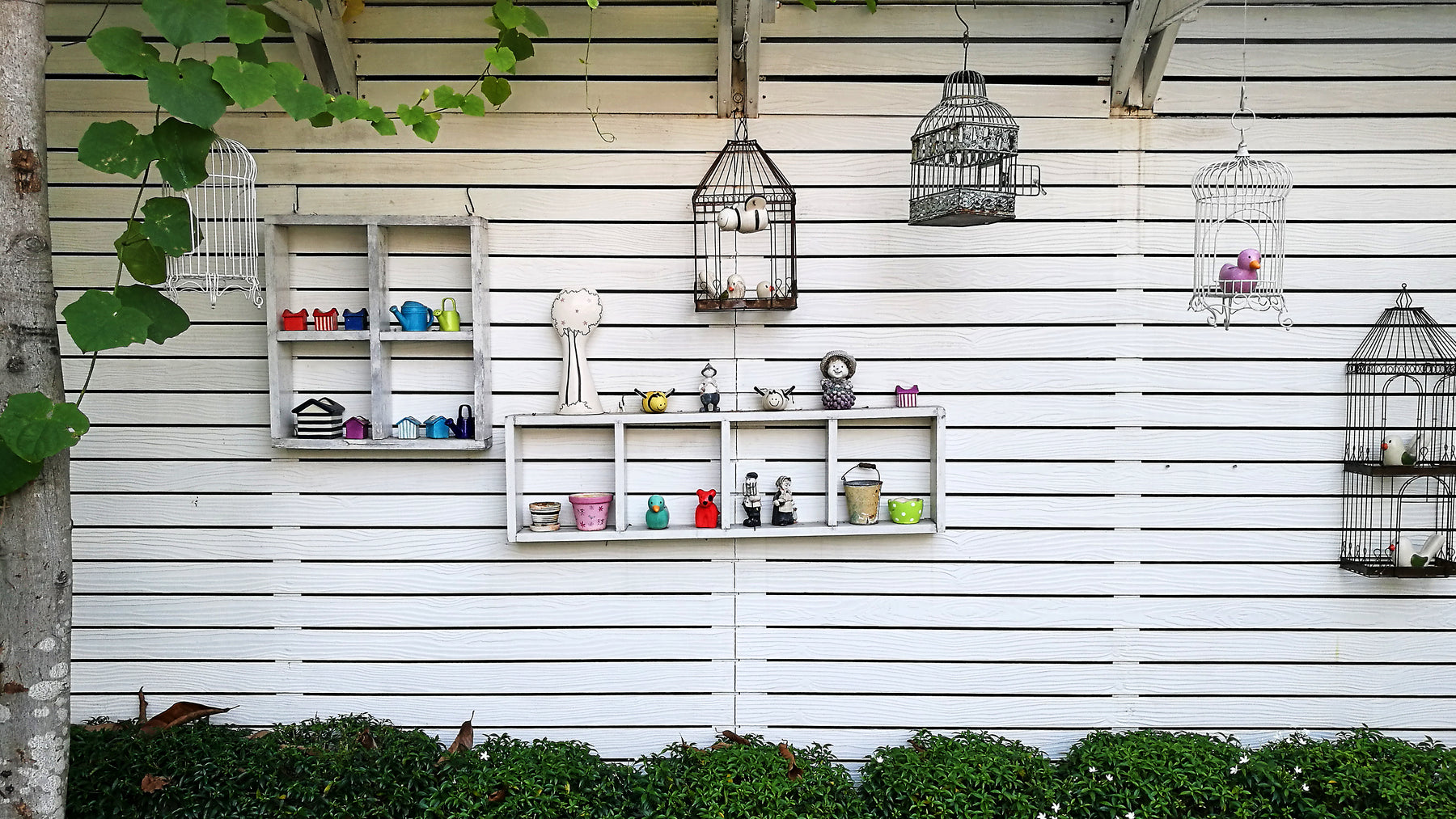 Spruce Up Your Patio With These Wall Decor Ideas
A house exterior is often an underutilized space... especially when it comes to showcasing your design ideas. Rather than leaving an exterior wall bleak and boring, why not spruce it up with outside wall decor instead?
Here at Happy Gardens, we are big on maximizing your outdoor spaces, whether it be a covered patio, your deck walls, or anything in between. That's we've put together this collection of unique outdoor wall decor ideas for your outdoor space.
Ready to dive in?
Decorating with Items Built for Outdoor Use
A quick and simple design idea for your outdoor space is to decorate it with items meant for outdoor use. These items are made to withstand both salt and water, making them great additions to outdoor wall decor. You don't have to worry about adding wood to your decor if it's built for an outdoor function.
Here are a few of our favorite ideas that involve outdoor wall decor made from outdoor items.
Fishing Nets
For an inexpensive design idea, find old fishing nets to add to your patio. You can hang it from your outdoor wall or use it as a decorating piece on the ground.
You can even add some dimension and extra color to your design by adding antique fishing floats. These glass pieces help to create an authentic nautical feel.
Wooden Canoe Paddles
Another great idea is to use wooden canoe paddles for outdoor wall decor for your patio. Thankfully, vintage canoe paddles are meant to withstand the elements while adding a nice touch of wood that you won't have to worry about.
Vintage Lobster Traps
Add vintage lobster traps to your pool cabana or other outdoor rooms to create more dimension. If your patio is in need of some character, look no further. You could even add these traps to your outdoor wall and use them as planters for a fun twist.
Old Windows
A unique way to create outdoor wall decor that has been recycled is by using old windows as decorations for your garden walls. Create the appearance of a window planter by adding flowers to the bottom. Wood windows help to add a more rustic feel.
Adding Metal Outdoor Wall Décor
Metal wall art is another one of our favorite ways of decorating a unique patio. Utilize blank wall space in your backyard by creating a gallery wall of art pieces all over. Here are some of our favorite outdoor wall decor pieces we've found.
Hanging Outdoor Wall Decor
Hanging wall art has become an increasingly popular addition to any patio. Enhance your garden walls with a piece like this one from Happy Gardens, the 5 Panel Disc Tree Ornament.
Metal Welcome Sign
If you're looking for metal wall art that also provides functionality, check out this Happy Gardens Swirly Bird Welcome Sign. Not only are you sending a warm message to guests, but you're also adding art to your wall.
Wrought Iron Outdoor Wall Decor
Wrought iron is another fun way to create a homey and cozy ambiance on your patio. With beautiful designs you can use to cover a plain wall paired with comfortable chairs, you'll find that this is a great way to spend your evenings with family and friends outside enjoying mother nature.
For beautiful wrought iron designs on a patio wall, check out this inspiration from Architecture Ideas.
Outdoor Wall Decor Statement Piece
Any wall isn't complete without an outdoor statement piece. We love this Sun and Moon Wall Hanging from Happy Gardens, perfect for any patio wall. Don't be afraid to go big and bold!
Creating a Feature Wall
In the age of social media, a feature wall has become wildly popular. This wall will serve as a focal point in your garden or on your patio, adding a personal touch.
A feature wall acts as an accent wall in your home, covering an entire wall. Here are a few fun ideas on how to create a feature wall on your patio.
Living Wall
Adding a living wall to your outdoor space is both beautiful and exciting. Using climbing vines, you can create a crisscross pattern across your wall space.
There's nothing better than integrating mother nature for your organic wall art display. Using all organic materials, you can make your vertical garden wall genuinely stand out.
Custom Signage
A fun take on the traditional welcome signage can help spruce up your patio space. Consider fun phrases like "stay awhile" or "sit down and get comfy." 
Hanging Baskets
Similar to the living patio wall decor idea, you can use potted plants to create a vertical garden. These garden ideas are great for blending outdoor wall decor with the beauty of nature.
Water Walls
Keeping things natural, rather than plants, you can consider water features on your outdoor wall. Not only will your exterior walls be more beautiful, but you'll also get to take advantage of the soothing sounds of running water in your backyard. Get inspired by this water wall from Farm Food Family.
Making Your Outdoor Area Your Second Living Room
Think about the time spent in your backyard. If it's pretty minimal, it might be because your area is lacking something. Create a beautiful setting in your untapped yard space with the addition of outdoor wall art.
Consider your outdoor area an extension of your home. Your outdoor wall should be treated as a wall in your living room. More than likely, you're going to want to include some wall decor to keep things feeling homey.
Here are just a few of our favorite ideas for incorporating outdoor wall art into your space and allowing your backyard to thrive in all of its glory.
Add Art Pieces
Spruce up that old, unattractive fence or outdoor wall in. your backyard by adding art pieces. Wall décor can take many forms, but any art piece will be a beautiful touch to any outdoor wall.
Get Creative with Spray Paint
Spray paint is a fun way to turn any outdoor wall into a gallery display. Home Edit has a beautiful display of outdoor wall decor made by one homeowner. This quick and easy outdoor wall decor is an excellent addition to any garden.
Simple Frames
Upcycle old picture frames by adding them to your outdoor walls. Even if they aren't filled with art pieces, the frames themselves can be used for a unique take on outdoor wall decor. 
Mirror Display
Integrating mirrors and frames in your outdoor wall decor is another great way to open up your space in a fun and exciting way. 
Accent lighting
Make sure you can see your outdoor wall decor at all hours by adding things like string lights across the area. For a more intimate touch, you can include lighting in Mason jars on tabletops. Remember that the more lighting, the more your wall décor will be able to shine.
Dining Area
There's nothing better than enjoying a home-cooked meal in the comfort of your own outdoor space during the warm weather months. Make sure to include a dining area amongst your outdoor wall decor to enjoy it to its fullest.
Color Palette
Much like you would for the interior of your home, you want to do your best to stick to a color palette outdoors as well. You don't necessarily have to use the same color for all of your exterior walls, but stay within your palette. Your outdoor walls will thank you!
Where to Buy Patio Wall Decor
If you're ready to start decorating your outdoor space, don't worry, we're here to help guide you. We want to make sure that you know where to shop for outdoor wall décor to keep your patio walls looking alive and well.
Outdoor wall art comes in all different shapes and sizes and is made from varying materials. It isn't always the simplest task to find exactly what you are looking for when you start shopping around. Here are a few ideas on where to buy outdoor wall art to help you create the garden of your dreams.
Swap Meets
Local swap meets are a great place to find crafty outdoor wall decor. The one downside to shopping at swap meets, though, is that you're not guaranteed to find what you are looking for. Still, it's worth going into this shopping experience with an open mind. After all, you might be able to pick up some exciting materials to craft a wall art piece of your own from some materials you find here.
Facebook Marketplace
For easier shopping from the comfort of your own home, you can take to Facebook Marketplace. This online marketplace is a great way to see if anyone in your area is trying to get rid of an outdoor wall art piece. You can even try your chances by searching through the free section. Since exterior wall art can range in prices, people might be willing to part with them at little to no cost to you. Sometimes, it's just a matter of having patience while you search.
Happy Gardens Store
Shopping for outdoor wall art at the Happy Gardens Store is highly recommended for those gardeners who aren't willing to compromise on quality or craftsmanship. Here you can search through our wall decor collection to find something that matches your garden's aesthetic, like this Raised Celestial Wall Decor Disc.
You'll find items that have been designed by artists and hand-selected by the Happy Gardens team throughout our store. At Happy Gardens, we're always happy to help spark some creativity and inspiration since making your backyard dreams come true is what we live for.
About Happy Gardens
You'll want to take a look at the Happy Gardens online collection for thoughtful and unique garden pieces and merchandise, great for any outdoor space. Whether you've been endlessly searching for that perfect outdoor wall decor, beautifully crafted rain chain, or charming hummingbird feeder Happy Gardens is undoubtedly the best place to shop. Each product you'll come across on our site has been handcrafted with love, with none other than your happiness in mind.
Coming from a wide variety of special collections, our beloved products are all top-rated. Keep an eye out for some of our favorites while you take the time to find your favorites. Our unique garden ornaments, fun and exciting statues, and our eye-catching birdhouses are some of our favorites.
But, that's just the beginning of our extensive online collection. We've recently launched a brand new line of merchandise as well. Find the perfect gifts for the fellow garden enthusiasts in your life, with fun and exciting items readily available year-round. Here you'll find the cutest tote bags, coffee mugs, and wine glasses perfect for any occasion made special for your loved ones.
Stay up to date on the latest and greatest happenings at Happy Gardens. Join our mailing list by simply entering your name & email address today. Then, look forward to daily tips and limitless fun flooding your newsfeed right away. Follow us on Instagram and Facebook for even more inspiration!
So, how do you pick the perfect outdoor wall decor for your garden? Try asking one of the experts at Happy Gardens via chat. Here at Happy Gardens, we're always happy to help!