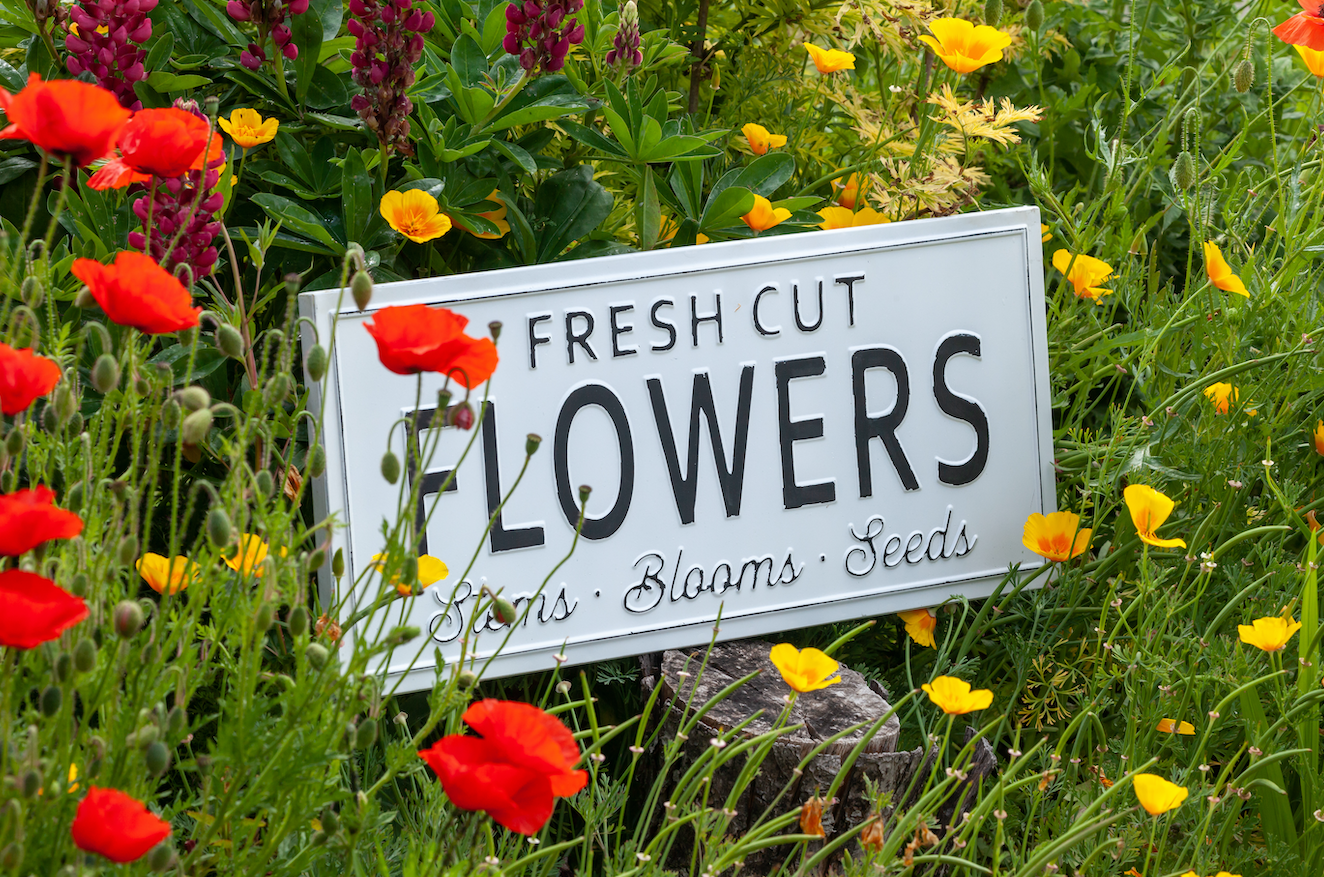 Ideas For Garden Sign Sayings & Quotes
Here at Happy Gardens, we believe no outdoor space is complete without a garden sign. Whether you select a traditional sign, a cute sign, or a funny one, we've rounded up some of the best garden sign ideas to help you get inspired. Plus, we've included step-by-step instructions on how to create a garden sign of your own, in case you're feeling crafty!
And remember, there's no rule saying you have to select just one. You can add as many outdoor garden signs to your yard and garden as you'd like, either all at once, or little by little. 
Traditional Garden Sign Ideas
A traditional garden sign is a classy, timeless way to welcome friends and family to your outdoor space. Unassuming yet charming, these classic garden signs can jazz up any garden wall or garden space without overpowering.
Welcome To Our Garden
You can't go wrong with a classic like this—after all, it literally welcomes visitors to your garden.
Welcome Sign
Ever heard the saying "say what you mean"? Well, this sign does just that.
Welcome To the Porch
If you've got a porch, a simple sign like this can add homey, timeless charm to the space.
Metal Garden Sign
You love your garden. You love to garden. Why not spell it out with this metal garden sign?
Fresh Cut Flowers
Got a flower bed that needs a little something? This fresh cut flowers sign can add a touch of whimsy to your favorite florals.
Seed and Supply
Perfect for any serious gardener, any sign that alludes to seeds, supplies, or any other gardening material can add a touch of old-school authenticity to your outdoor space.
Fresh Flower Market
Here's another way to transform your favorite flowed bed into a flower market—with a sign that says just that.
Cute Sign Ideas
Looking for something even cuter? There are tons of cute garden sign sayings you can incorporate into your outdoor space. For an extra touch of adorable, add a fun sign near a few plants.
Hello Beautiful
Welcome friends, family, and even your favorite postal worker with a warm, complimentary sign. Because it sure feels nice to hear you're beautiful, doesn't it?
Let it Bee
Celebrate bees—and the Beatles—with this punny garden sign we can barely keep in stock. Bonus points for placing this garden sign in your most colorful, pollen-rich flowerbed, where bees feel most at home.
Beautiful Garden
If you've got a beautiful garden, why not shout it to the rooftops with a sign that says just that!
Garden Tours Sign
Down to give any visitor a garden tour? Why not purchase or create a sign that says just that. After all, you're proud of your outdoor space!
Fairy Garden Sign
Want to transform your outdoor space into a fairy garden? With the right decor and signage, your yard can easily become an enchanted woods.
Garden Time Slows
You know how every time you're in a garden, time just stops? Share that sensation with your guests with a garden sign that says just that.
Funny Sign Ideas
Want to jazz up your garden shed in a fun way? Warn neighbors or unruly children of stubborn weeds? Perhaps a clever, silly sign is right for you!
Untamed Dandelions
Got weeds? Instead of stressing over them, celebrate them! With a witty sign like this, your guests will learn to love your weeds just as much as you do.
Free Weeds
Here's another chance to laugh off your weeds—by joking that you're giving them away! Invite your guests to grab a bundle with a silly sign like this one.
Chillin and Grillin
If your outdoor space is used for laid back barbecues, this sign can help solidify that. It makes a perfect housewarming gift, birthday present, or Father's Day gift, too.
https://happygardens.com/collections/garden-signs/products/chillin-grillin-signn
Trespassers Will Be Composted
Scare off any unwanted visitors—but mostly, earn a few laughs—with a sign that outlines exactly what you'll do to uninvited guests. Silly and clever, this sign will delight each and every one of your neighbors.
Bloomin' Crazy
Got a potted plant that's growing with gusto? Celebrate all those flowers with a sign that signifies just how well your favorite plant is doing!
Making a Garden Sign
Can't find a prefabricated sign that's right for your outdoor space? You can create your own, with any cute saying you'd like! Once you've got your sign idea, it's time to make your sign
These step-by-step instructions will help you learn how to make your own distressed gardening sign.
What You'll Need
Creating your own garden signs is easy, but you'll need to do a little shopping first. Here's what you'll need:
A garden sign template for your text

Unfinished wood of your choosing—pick carefully if you don't intend to paint

Foam pouncer

Your choice of wood stain, if desired

Outdoor acrylic paint, any color you'd like

Sandpaper

A good paintbrush, perhaps in several sizes

White acrylic craft paint, if you'd like to add distressing
Step 1: Stain Wood
Your first step will be staining the wood for your sign. To do this, you'll need to apply the stain using a foam brush or an old rag. Remember to wipe away the excess—less is more. Let it dry, use foam brush or old rag.
Step 2: Sand Edges
Once your wood is dry, you can send the edges, smoothing your sign until it's perfect for the look and feel you're going for.
Step 3: Distress Wood
Next, it's time distress the wood. This is a special technique you can achieve with a little practice, so feel free to try it out on a sheet of paper before getting to work on your sign. Once you're confident, get started!
Use a dry brush, lightly dipping it in white paint—remember, you don't want complete coverage. In fact, the goal is partial coverage, which will help you achieve that distressed, effortless look.
Let your work dry, and again, sand around the edges as needed.
Step 4: Cut Out Stencil
Next, cut your stencil using a cutting machine, like a cricut. Or, hand cut your stencils or use masking tape or a good ol' pencil to plan out your lettering.
If you're using a stencil, tape it down to secure it.
Step 5: Paint Words
Now, it's time to paint a cute saying onto your sign! Use a foam pouncer with your desired outdoor acrylic paint. For best results, paint straight up and down—this will help prevent bleeding.
Step 6: Remove Stencil
Now, you'll need to carefully remove your paint stencil without damaging your sign. The easiest way to do this is with paint tacky. Remove it slowly at a 45 degree angle for a clean, effortless peel.
Step 7: Let Dry
Now, give your sign a couple days to dry completely before choosing a place to hang it outside.
Where to Find Garden Sign Ideas
Still not sure what kind of garden sign you're looking for? There are so many different places to shop for cute garden signs, so you're sure to find the perfect one for your yard eventually. Best of all, you can still shop around—even if you're just looking for garden signs idea for your DIY project.
And who knows, maybe you'll find that special garden sign you just have to have.
For the Bargain Hunters
Looking for a deal on a garden sign? You can find a beautiful hand painted sign at a bargain price if you're willing to look. Search second-hand stores, discount department stores, and online platforms like OfferUp and Facebook Marketplace for some great deals on unique pieces. beautiful hand painted sign
Garage sales, swap meets, and flea markets are also great places to hunt for a great garden sign at a fantastic price.
For the Online Shoppers
Looking for something new? You can find a wood or metal sign for your garden without leaving the comfort of your home. Whether you're shopping for a used sign on a resale website or browsing for something new, there are tons of options to choose from.
Happy Gardens Store
Here at Happy Gardens, we're ultra proud of our handpicked collection of garden signs. Each unique, handcrafted sign has been carefully selected by our team of buyers for quality and cleverness!
Plus, each item in our shop is backed by our Happy Gardens guarantee, ensuring you'll enjoy your garden sign for years to come.
About Happy Gardens
Happy Gardens is your one-stop-shop for gorgeous, high-quality garden decor and merchandise guaranteed to bring charm and cheer to your outdoor space. Whether you've been searching high and low for a cute windchime, a unique birdhouse, or a clever garden sign, we're confident that we've got what you're looking for. After all, each product we stock has been chosen carefully by our garden-loving team.
We invite you to take a few minutes to explore our collections, discovering countless top-rated products, including one-of-a-kind spinners, stunning rain gauges, unique garden ornaments and statues, and more to add whimsy and warmth to your outdoor space.
Want to stay in the know? With Happy Gardens, it's easy to stay on top of all the latest trends in garden decor and design. Simply join our mailing list, or follow us on social media for a daily dose of inspiration! We also love to feature new products, gorgeous gardening photos, and pictures from our happy customers.
Not sure where to start? Can't seem to pick a garden sign? We're here to help! Reach out to our team whenever you'd like for assistance selecting a perfect piece of garden decor for you or a loved one.