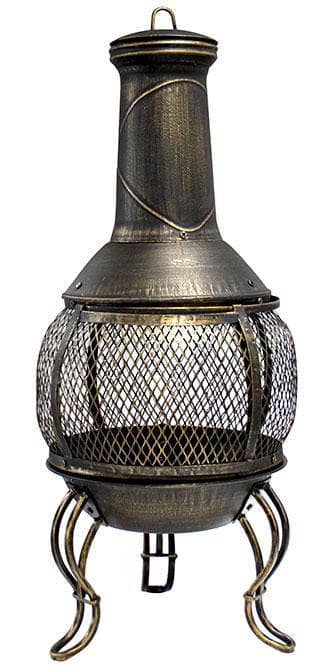 How To Use A Chiminea In Your Backyard
Nothing cozies up a backyard space quite like a chiminea. And these charming outdoor fireplaces are becoming more and more popular every day. While some use chimineas as an artistic addition to their backyard or patio space, they can also serve as a functional outdoor wood-burning fire providing heating and light. But what's become a decorative accent piece has a history that goes back hundreds of years.
In this article, we'll cover a brief history of the chiminea, what to look for when purchasing one, and what safety tips you'll want to consider if you decide to install one.
History of the Chiminea
The chiminea is made from clay and designed with a wide base and a narrow, vertical chimney. This vase form helps direct the smoke upward and away from the fire burning in the basin. The chiminea design is complete with a wide mouth on the side, specific for the fire pit function. And this unique design is much more than aesthetically pleasing. It also helps protect the fire during rainy weather without worrying about the flames being extinguished.
Historically, the origins of clay chimineas go as far back as the 16th century. These multi-functional vessels were used in villages in Mexico where the family could gather around them for heat or use them for cooking.
The traditional potbelly stove, known for being a cast-iron, wood-burning stove, functions the same as the chiminea. In Eastern Europe, the name for this is a kotao. Fire pits are another popular option around the world, but do not have the same containment as a chiminea.
Some of the most popular firewood to burn in a chiminea are those that emit strong aromas, like pinon, mesquite, hickory, or cedar. Since the chiminea design will naturally blow smoke up and out, you will be able to enjoy that smoky, natural scent. And thanks to its unique shape, a chiminea can reach its maximum heat capacity within 15 minutes.
What to Look For When Buying a Chiminea
The chiminea can be found in varying designs, from rustic terra cotta all the way to intricately hand-painted with Spanish flowers. But, before you go ahead and start to search for the most ornate piece you can find, it's important to know what you are looking for before buying a chiminea.
Shape and Design
While the basic shape and design of the chiminea are rather simple, since they are more frequently used as art pieces, you'll find that sometimes they won't always serve the functionality side. Look closely at the shape and make sure it isn't crooked in any way. Also, if you plan on using your chiminea as a fire pit, you'll need to ensure that the funnel isn't too thick or too thin. Then again, if you're looking for an art piece, you have no worries!
Materials
The traditional chiminea was made from terracotta. However, the chiminea of today can be found in varying materials, perfect for matching any backyard motif.
Terracotta or Clay Chiminea
If you're looking for the traditional style chiminea, you can't go wrong with a terracotta or clay piece. Since this is the original form, you can rest assured that this material serves its purpose in terms of functionality. Over time, clay can begin cracking, so be sure to check for any sign of wear and tear over the years.
Cast Iron Chiminea
Another chiminea material that can readily be found in cast iron. Known for being more durable than its clay counterpart, cast iron generally has a longer life span, and dark coloring hides ash well. It's important to note, though, that cast iron can reach very high heat and can therefore be hot to touch. As such, a cast iron chiminea might not be the best option if you have small children at home.
Metal Chiminea
Finding stainless steel or cast aluminum chiminea is an excellent modern alternative to both clay and cast iron. Since metal is so lightweight, it is very portable, so you can rearrange your backyard area as frequently as you like. Despite its lightweight nature, metal is still very durable, which means you will not compromise functionality with your metal chiminea. One thing to note is that metal may be more prone to rust.
A couple of our favorite steel chiminea is the Corona Steel Chiminea and the Sorona Steel and Cast Iron Chiminea, which blend two popular materials into one.
Size
When it comes to making a fire, you'll want to be mindful of the size of your chiminea. The larger sizes will be able to handle standard-sized pieces of wood. Otherwise, you'll have to either special order or chop down smaller pieces, chunks, or chips yourself.
Additionally, if you plan on cooking with your chimenea, you'll want to be sure you can fit your food on the interior grate properly, where the embers can provide warmth.
Local rules and regulations
Not all zones allow wood-burning fireplaces indoors and outdoors. It's a good idea to check the regulations in your area. If you find that you are not allowed to have a wood-burning chiminea, you can also look for one that runs on liquid propane or gas as an alternative to your fire source.
Where to Place Your Chiminea
If you plan on using your chiminea as a fireplace, you'll want to be mindful of where you place it in your yard. Ideally, you will be able to find a location for your chiminea that would allow you to see the fire from the inside of your home. To stay safe, having this visibility will ensure that the fire never goes unattended, although it is best recommended for at least one person to stay near it any time there is live fire.
Some of the most common places for a chiminea include:
Other factors to consider when placing your chiminea include the direction of the smoke. You want to ensure the air will carry the smoke away from your home. Also, chiminea's produce ash, so that's another thing to consider.
Chiminea Fire Pit Safety Concerns
Always use common sense and fire-safe behaviors when operating your chiminea. The combined efforts of the United States Environmental Protection Agency (EPA) and the Hearth, Patio, and Barbecue Association (HPBA) have created a volunteer woodstove changeout program across the nation. You can find out about any potential concerns regarding chimineas in your area by checking out this information.
Where to Buy Chimineas
Chimineas very literally come in all shapes and sizes—which means shopping for exactly what you are looking for isn't always the easiest task. Here are a few ideas on where to buy chimineas to help get you started finding the fire pit of your dreams.
Local Swap Meets
Check out your local swap meets to see what type of crafty chimineas you can find. Since a terracotta or clay chiminea can be quite heavy, finding larger ones at swap meets isn't always easy to do. But, if you're looking for a lighter, metal, or smaller chiminea, this is a good place to start.
Facebook Marketplace
You can also try to look at Facebook Marketplace to see if anyone in your area is looking to get rid of a chiminea. You might get lucky and find a chiminea under the free section, although we can't imagine why anyone would ever want to give one up!
Happy Gardens Store
Lastly, if you want to find hand-crafted beauties without compromising on quality, the Happy Gardens store is going to be your best bet. Here you can find items designed by artists and hand-selected by the Happy Gardens team. Making your backyard dreams come true is what we live for here, and we're always happy to help spark some creativity and inspiration.
About Happy Gardens
If you're looking for unique and thoughtful garden decor and merchandise for your outdoor spaces, the Happy Gardens online collection is the best place to start. Whether you've been endlessly searching for that perfect chiminea, beautifully crafted birdhouse, or charming rain chain, you'll find that Happy Gardens has exactly what you're looking for. Best of all, each product you'll come across on our site has been handcrafted with love for your happiness.
We offer a wide variety of special collections, all of which are top-rated and beloved products. Choose from our favorites, like artistic rain gauges, unique garden ornaments and statues, eye-catching spinners, and so much more to decorate your outdoor areas. We also have a brand new line of merchandise, with fun and exciting gifts readily available year-round. Got some fellow garden enthusiast in your life? Find the best coffee mugs, wine glasses, and tote bags for them for any occasion.
You can stay up to date on the latest and greatest happenings at Happy Gardens by joining our mailing list. Simply enter your name & email address, and look forward to adding some fun (and tons of tips and tricks) to your newsfeed. For those who can't get enough garden inspiration, follow us on Instagram and Facebook.
If you're ever stuck and in need of help choosing the perfect chiminea or designing the ideal layout for your outdoor decor, never hesitate to reach out to us via chat. At Happy Gardens, we're here to help!