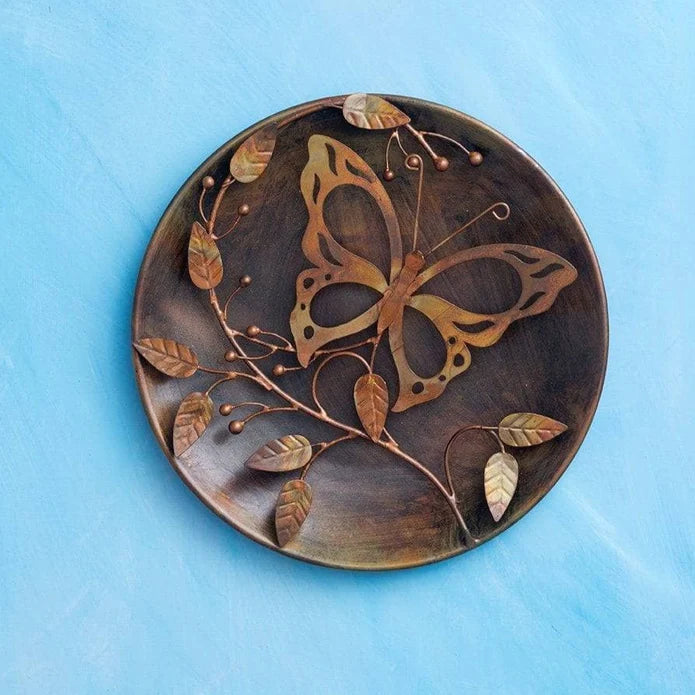 How 3D Butterfly Wall Decor Can Bring Life To Your Yard
Looking for new, exciting ways to bring life to your outdoor space? With the right butterfly wall decor, it's easy to transform your yard into a dynamic, visually compelling gathering place. This article will address some of the most frequently asked questions about displaying butterfly wall decor. We'll also showcase some of our customers' favorite pieces of outdoor butterfly decor and highlight the best ways to display them.
Key Takeaways
Butterfly decor of every color, shape, and size can transform any outdoor space from plain to remarkable in just an afternoon.

When affixing butterfly decor to a wall or other surface, follow best practices and the manufacturer's instructions for best results.

If creating your own butterfly wall decor, ensure you choose materials and finishings that can withstand the elements.
Benefits of butterfly wall decor
While our Happy Gardens team has a soft spot for all outdoor wall decor, we're particularly fond of 3D butterfly wall decor. That's because when it comes to outdoor critters and creatures, there's nothing quite as enchanting, exciting, or beautiful as a butterfly. Sure, grasshoppers are incredible, and caterpillars are nifty--but nothing's as breathtaking as a butterfly. Why wouldn't you want to showcase such a gorgeous, fascinating little creature in your outdoor space?
Another benefit of butterfly wall decor is that these pieces look good everywhere, regardless of your home's style. In the Great Outdoors, butterflies are everywhere. When it comes to styling your backyard, the same rule applies. Whether your home is a stark, modern arrangement of concrete and glass or a whimsical cottage, butterfly wall decor can elevate the look and feel of your yards, patios, and walkways.
Related: Spruce Up Your Patio With These Wall Decor Ideas
How to select butterfly wall decor
To get started, think about the colors, materials, and textures of butterfly wall decor that would look best in your outdoor space. Are you looking for something large or small? Ornate or simple? Finished in an understated-yet-stunning flamed metal or seeping with bold, jewel-tone colors? No matter what you've decided your garden needs, you're sure to find the butterfly-themed decorations of your dreams. 
At Happy Gardens, for example, we stock dozens of butterfly-themed products, from rain chains to wind chimes to hanging ornaments. We also have a wide variety of 3D butterfly wall decor that's easy to care for, handcrafted, and a cinch to install. Our perennial best-seller, this hanging butterfly, is a carefully-crafted, flamed metal, three-dimensional oversized butterfly that instantly elevates any outdoor space. It's also easy to affix to a fence or an exterior wall. 
Or consider this butterfly on branch disc for a more ornate, classical look. It features the same goes-with-everything flamed metal finish but showcases an intricate cutout of a butterfly perched on a leafy branch. The picture is set upon a high-quality, handcrafted disc. 
If you're hoping to add even more butterfly decor at different lines of sight, consider dangling a wind chime from a nearby tree or adding a garden stake to a grassy walkway or paved path. For a punch of color, this  multicolor butterfly garden stake--with its brilliant ruby and sapphire wings--is a popular choice. And if it's motion you crave, this butterfly whimsy flutterer will whirl with every gust of wind. 
If you'd rather create your own butterfly wall decor--or mix in a few DIY pieces with your new purchases--there are various methods for doing just that. Creating 3D butterflies out of paper is most common, but these decorations cannot withstand more than a day or two outdoors. Instead, consider using weatherproof paint to decorate large stones with butterflies. Another idea? Some families like to make "handprint butterflies" with their children using a concrete mix. These butterflies can then be stained or painted for a touch of color. 
You can also shop secondhand stores, online resale marketplaces, or rummage through a local garage sale to search for butterfly wall decor. There's no guarantee you'll find exactly what you're looking for, but it's always worth checking from time to time.
Frequently Asked Questions
How do you apply butterfly wall decor?
Application instructions will vary depending on the butterfly wall decor you've selected. Self-adhesive butterflies can usually be affixed to interior drywall so long as the wall is clean and dry. On the other hand, heavy-duty butterfly wall decor intended for outdoor use will usually ship with the hardware required for easy installation. Many products, including all those sold by Happy Gardens, are designed for a quick, secure, and frustration-free install. 
How to make 3D butterfly wall art?
If you've decided to create your own butterfly wall art--whether for inside or outside--you'll need to gather supplies first. For a quick, simple indoor butterfly wall art project, grab construction paper, a good pair of scissors, and some tape. Folding each sheet of paper in half, cut out one side of the butterfly wings you've traced per an online template. Don't forget the antennae. 
You may wish to color, dye, or decorate the wings before or after you've cut. Many crafters like to affix the butterflies onto a blank canvas in a stunning arrangement or tidy rows. Whatever you decide to do, carefully glue or tape the butterflies onto the canvas. Or, for a more natural, organic look, you can affix the butterflies directly to the wall using drywall-safe adhesive tape. If you use glue or another material to affix the butterflies, keep in mind you'll need to patch and paint the wall when you remove your butterfly art.
About Happy Gardens
Happy Gardens is a top-rated, family-owned garden decor shop. We offer stunning, handcrafted pieces of garden decor guaranteed to add instant charm to your outdoor space. From rain gauges to birdhouses, there's no shortage of unique, remarkable items handpicked by our team to transform your garden and yard. Feel free to browse our collections and find that perfect something for you or a loved one today.
If you need any help or have any questions at all, our team is always here to help via email or chat.