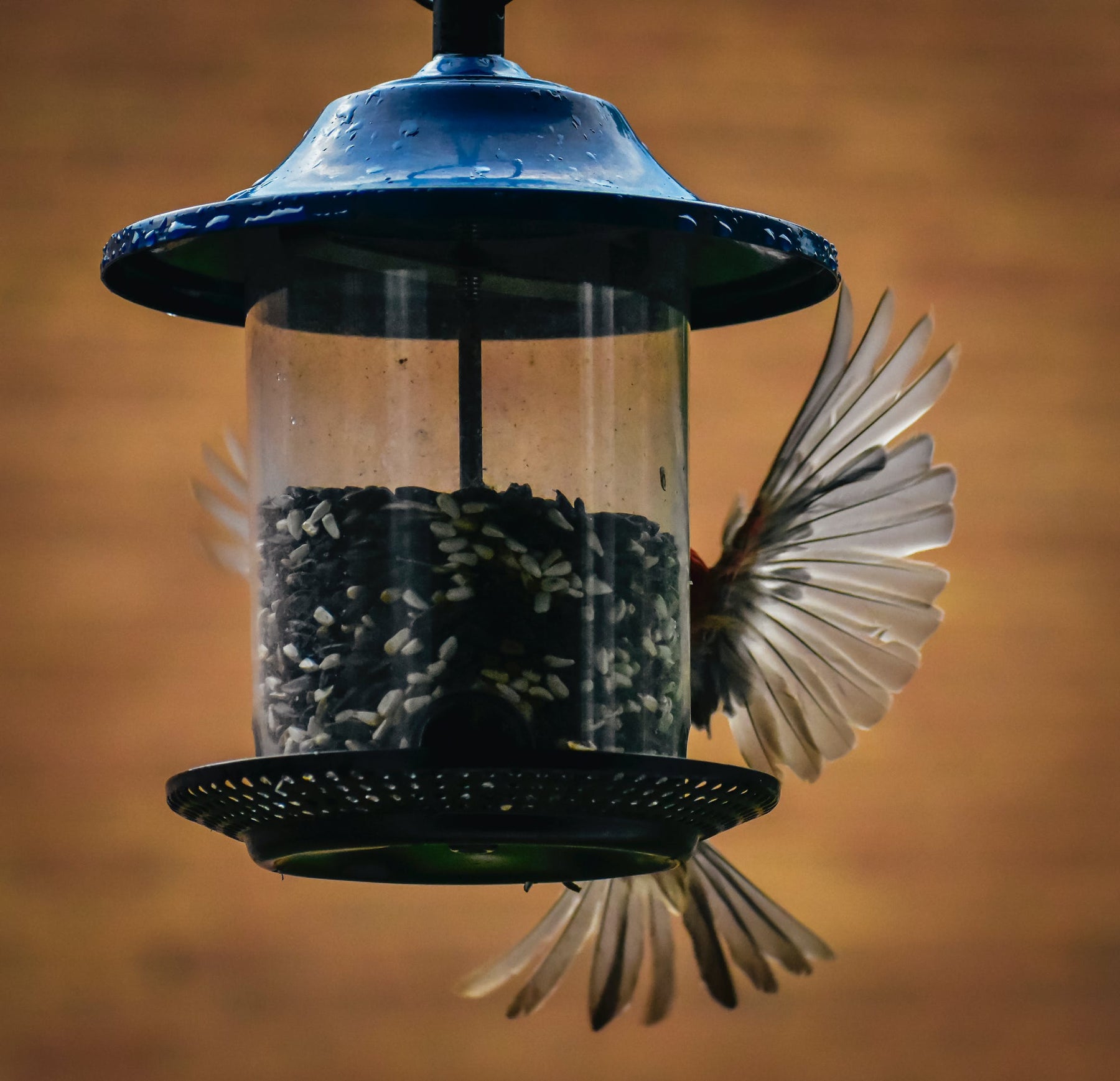 How to Choose the Best Bird Feeder Types for Your Yard or Garden
One of the best parts of having an outdoor space is enjoying some of the natural wildlife commonly found in your area. And, what better way to enjoy your local avian than by providing them with a safe place to rest and feed right in your very own yard?
The practice of feeding birds, when properly managed, not only provides you with countless hours of enjoyment but can also help benefit the local bird population. The first step in turning your garden into a feeding sanctuary is finding the best-suited bird feeder (or feeders) for your setup. Thankfully, bird feeders are not limited to those with massive backyards or gardens. There are a wide variety of feeders out there that can accommodate smaller spaces.
In this article, we're going to take a deep dive into all of the different types of bird feeder styles, what kinds of birds they attract, and where you can find some of your very own.
Types of Bird Feeders
When it comes to bird feeders, no two styles are created equal. Bird feeders come in all different shapes and sizes. The type of feeder you choose will depend on a few different features but primarily depends on what species of birds you want attract.
Related: 10 Ways to Attract Hummingbirds to Your Yard
If you are not familiar with local birds, it might be in your best interest to do some quick research to see what types are in your area and what they like to eat. That way, you'll have a good idea of what type of bird feeder to be on the lookout for.
Another thing to keep in mind when shopping for your ideal bird feeder: maintenance requirements. Some feeder designs are simple and easy to clean, while others are incredibly complex and take a little extra TLC to maintain.
Here are a few of the most popular bird feeders out there to help you get a better idea.
Tray or Platform Feeders
One of the most simple designs out there for bird feeders is the tray of platform style. As you can imagine, these feeders may have a simple platform that holds seeds while providing a place for birds to stand on while feeding. Platform feeders are great for larger feed like sunflower seeds and can also be placed lower to the ground to attract ground-feeding birds like mourning doves.
Pros
Very easy to clean
Attract several different birds to your yard
Maximum viewing of birds while feeding
Can accommodate ground-feeding species
Mesh bottoms allow for drainage and bird droppings to fall
Cons
Exposed to the elements
Wet seeds can promote bacteria growth in the feeder
Must be cleaned frequently
Easy access for other animals such as squirrels or deer
While being exposed to the elements is likely to be the biggest pitfall of tray or platform feeders, some designs combat this. You can opt for something like this Open Gazebo Bird Feeder, which has a cute design and provides practical coverage protecting the seeds from the elements.
Birds for Tray or Platform Feeders
House finches
Jays
Northern cardinals
Pigeons
Starlings
Song sparrows
Titmice
Birds for Tray or Platform Ground Feeders
Cardinals
Doves
Goldfinches
Jays
Juncos
House sparrows
Towhees
House or Hopper Feeders
Unlike the open design of a tray or platform feeder, hopper or house feeders are fully enclosed and feed seeds out of the bottom. As a result, many birds are attracted to house or hopper feeders, which are slightly more squirrel resistant than a tray feeder.
Related: How to Keep Squirrels Out of Bird Feeders
Pros
Tray feeders do not need to be refilled often
Attract birds of varying species
Protects seed from the elements
Cons
Must be cleaned out monthly
Difficult to clean
Seed may still spoil in the feeder
Finding house or hopper feeders made with cedar can help prevent the growth of mildew, rot, bacteria, and fungi. It's also one of the stronger woods, making it an excellent option for the outdoors. This Red Christmas Cottage Bird Feeder is a perfect example of a hopper feeder with cedar tastefully implemented into its design.
Birds for House or Hopper Feeders
Buntings
Chickadees
Grackles
House finches
Jays
Northern cardinals
Red-winged blackbirds
Titmice
Window Feeders
Window feeders are an excellent option for anyone with limited space in their yard or garden. These types of bird feeders are also a perfect way to get up close and personal with nature, being able to view them right from your window.
Pros
Easy to clean
Closeup viewing
Cons
You can adhere window feeders to your window with suction cups or can also hook to your window sill. Specialists recommend the suction cups to help avoid window collisions, like this Jewel Box Window Hummingbird Feeder.
Birds for Window Feeders
Finches
Chickadees
Some sparrows
Titmice
Tube Feeders
Another option to help keep the feed protected from the elements is the tube feeder. Tube feeders hang, feeding birds through a screen or port and attracting smaller birds with small perches.
Pros
It prevents larger birds from competing
It can be squirrel proof
Cons
Squirrels can chew through poorly designed feeders
Seed can accumulate in the bottom of the feeder and rot
Specialists recommend finding tube feeders that are appropriately sized for the birds in your area so that they naturally empty them frequently. If you're looking for a fun design outside of the norm, check out this Pineapple Bird Feeder.
Birds for Tube Feeders
Chickadees
Goldfinches
House finches
Pine siskins
Redpolls
Nyjer or Thistle Feeders
Nyjer seed, also known as thistle seed, is a tiny black seed grown in Asia and Africa then imported into the United States. The primary use for nyjer seed is for bird feeding. Nyjer feeders are similar in design to tube feeders but have narrower holes that only small-beaked birds can get through to feed. That's why feed such as sunflower seeds would not be appropriate for this type of bird feeder.
Pros
Excellent feeding source for finches
Cons
Bag-type designs can get wet
Cleaning nyjer feeders are similar to tube feeders. Other designs look more like a mesh bag, but specialists do not recommend these as they get wet easily and trap moisture.
Birds for Nyjer or Thistle Feeders
Goldfinches
House finches
Pine siskins
Redpolls
Suet Feeders
Suet is a specific type of bird feed that is high in fat and protein content. Typically, suet contains rendered fat mix or peanut butter mixed with different bird seeds and grains. Suet comes in cakes and therefore requires a particular suet feeder that holds these cakes while allowing birds to feed. Suet feeders attract birds searching for fattier food and can even be mounted on a pole.
Pros
Attract a wide variety of birds
Suet can spoil in the heat
Feed must be checked regularly for spoiling
Cons
Attract less-desirable starlings
There are several designs of suet feeders to choose from. This Christmas Cottage Suet Feeder combines functionality with an aesthetically pleasing design, sparing no details. This feeder even has a mini bird feeder on it!
Birds for Suet Feeders
Bluebirds
Cardinals
Jays
Nuthatches
Chickadees
Starlings
Titmice
Warblers
Woodpeckers
Wrens
Hummingbird Feeders
Hummingbirds feed on nectar substitutes containing sugar water, which requires specific feeders to hold this liquid substance. There are several different design styles and shapes of hummingbird feeders to choose from. Add some bright floral design to your garden space and put your nectar in this Botanica Lunch Pail Hummingbird Feeder. Or, for something more elaborate that invites multiple hummingbirds, check out this Grand Mini-Blossom Chandelier.
Fruit Feeders
Fruit feeders are types of bird feeders designed to hold fruit rather than seed. Some of the common fruit for these feeders include apples, oranges, or even grape jelly.
Pros
Cons
Can welcome larger animals to your yard
A fun experiment can be to try out different fruits in your feeder throughout spring and fall when the most birds are out. You can make it a fun and exciting game for everyone in the family to take part in.
Birds for Fruit Feeders
Catbirds
Grosbeaks
Orioles
Tanagers
Log Feeders
By simply drilling a few holes into an old log, you can easily create a feeder of your own. You can stuff peanut butter or suet in the feeding ports depending on what different species of birds you want to attract.
Pros
Easy DIY project
Inexpensive
Cons
As a bonus, the log itself acts as an additional perch for larger birds to enjoy. For a fun spin on a log feeder, check out this Log Cabin Bird House.
Birds for Log Feeders
Blue jays
Nuthatches
Woodpeckers
Mealworm Feeders
If you're looking to attract insect-eating birds specifically, you might want to look out for a mealworm feeder. Any small dish or domed feeder can work as a mealworm feeder. You could even try using this Botanica Handpainted Ant Moat as a mealworm feeder.
Birds for Log Feeders
Where to Buy Different Types of Bird Feeders
Now that you've got a good idea of what different types of bird feeders are out there, it's time to find one of your very own. Here are a few ideas of places you can check out as you begin your search.
For the Bargain Hunters
If you love a good deal, you can easily find bird feeders in a variety of different bargain-hunting hot spots. Try checking out your local swap meets, flea markets, garage sales, and even antique shops to see what sorts of options are out there.
For the Online Shoppers
Thankfully, you don't have to leave the comfort of your own home these days to find some quality stuff; bird feeders are no exception. For savvy shoppers, check out online marketplaces such as OfferUp or Facebook Marketplace and see what locally listed bird feeders you come across.
Happy Gardens Store
And, for anyone looking for the convenience of online shopping without compromising the bargain pricing, the Happy Gardens Store is the place for you. Choose from the highest-quality, handcrafted bird feeders available to you in our tastefully designed one-stop shop!
About Happy Gardens
At Happy Gardens, you can shop through our online collection to find an assortment of thoughtfully crafted garden decor and merchandise to fill your outdoor space. So whether you've been endlessly searching for that flawlessly constructed birdhouse, quaint rain chain, or abstract wall art piece, you can rest assured Happy Gardens has exactly what you're looking for. After all, every product you find on our site has been handcrafted and selected with love.
Explore our countless unique collections that include a variety of top-rated, adored products, including one-of-a-kind spinners, inspired rain gauges, original garden ornaments and statues, and more to embellish your outdoor areas. New to our online store, we now offer our very own line of merchandise, with fun and exciting gifts available year-round. Find the best tote bags, wine glasses, and coffee mugs for your loved ones and fellow garden enthusiasts.
If you want to stay up to date with the latest happenings here at Happy Gardens, join our mailing list by simply entering your name & email address. Follow us on Instagram, Facebook, and Pinterest, for anyone looking to add some garden inspiration, tips, and tricks to their newsfeed.
Not sure where to start? We've got you covered! If you need help designing the perfect layout for your outdoor decor or selecting the quintessential garden art piece, reach out to us via chat. We're happy to help!