BEST SELLER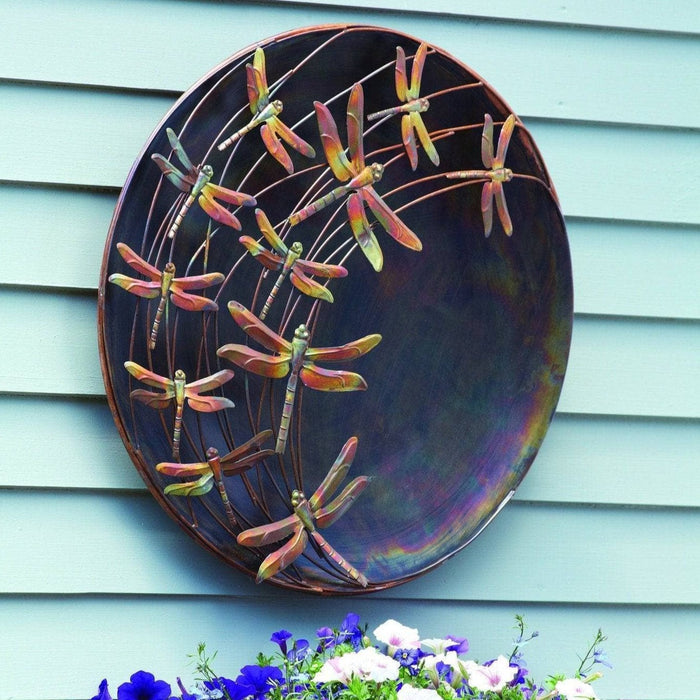 "Absolutely LOVE! It is a perfect fit for my bathroom décor. I don't know if I would put this item outside, the elements might destroy the beauty of it." - Theresa N., - Happy Gardens Customer
Raised Dragonflies Wall Decor Disc, 23"
Sold out
Original price
$129.99
-
Original price
$129.99
Raised Dragonflies Wall Decor Disc, 23"
This beautiful piece looks excellent anywhere–yes, even indoors! Our Raised Dragonflies Wall Decor Disc is sure to catch many eyes, whether it hangs in your living room or on an outdoor fence. Its iridescent, neutral finishing is noticeable without being noisy, which means it'll add character to your space without becoming a distraction. Like all Happy Gardens decor, this work of art is individually handcrafted and made from beautiful but durable materials.
Steel construction with flamed finish
Dimensions: 23" Diameter
INDIVIDUALLY HANDCRAFTED

- Our wall decor is expertly constructed by skilled artisans by hand, and you can really see the difference in the finished product.

SIMPLE INSTALLATION AND MAINTENANCE

- When hanging our wall decor, you can expect to have your purchase displayed without frustration. Our wall decor comes ready to mount! Cleaning is also simple and will guarantee your wall decor will look great for years to come.

PICTURE-PERFECT

- We handpicked this wall decor because it's the perfect combination of craftsmanship and beauty. It'll add personality and charm to your patio or porch, and also makes a fantastic gift.

CONSTRUCTED WITH QUALITY IN MIND

- The hand-selected materials used in our wall decor are the finest in quality, helping create products that look great and last for years.

ONE-YEAR WARRANTY YOU CAN BELIEVE IN

- Trouble with your purchase? No sweat. Our friendly customer service team is happy to stand behind our one-year, limited replacement warranty.