BEST SELLER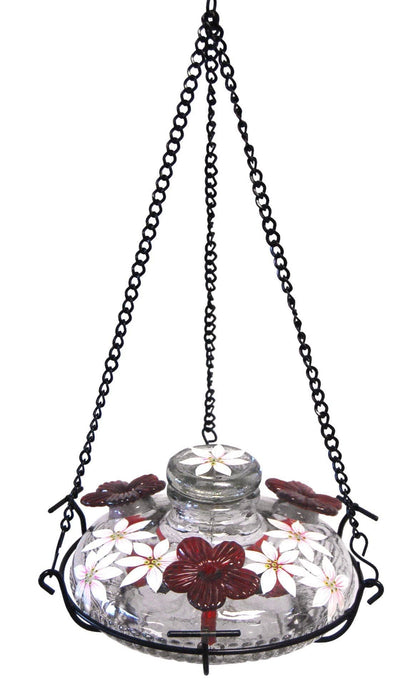 Bloom Botanica Feeder with Perch
Sale
Sale
Original price
$79.99
-
Original price
$79.99
Bloom Botanica Feeder with Perch, Clear, 16 oz.
Birds that use this feeder:

Seed or Feed Options: nectar
Capacity: 16 oz.; 3 ports
Dimensions: 7.5" dia. x 1.75"H frame, 6" dia. x 3.5"H vessel
Mounting: may be hung
Construction: glass, metal
Shipping Weight: 4 lbs
Add lasting and vivid flowers to your yard all summer using this Clear Bloom Botanica Hummingbird Feeder with Perch. The clear glass construction and sturdy frame make this feeder a fantastic addition to your bird garden, while the hand painted flowers on it add an artistic effect.
The circular body lends traditional shape to your garden, while raised and depressed vertical lines along the base of the blown glass piece create texture and evoke ruffles. It's clear hue perfectly accents the painted flowers, and a decanter style lid completes the unit. This reservoir holds 16 ounces of nectar easily, and three red, glass feeding flowers insert into the ports.
Align the perches on the metal holder with these ports, to create a few resting and dining spots for hummingbirds. Three attached chains on the metal frame, along with an included "S" hook, make it simple to hang the unit from a bracket.
The feeder removes from the frame and the lid lifts for quick cleaning and refilling, while the glass construction remains lovely. Further the floral motif of your bird garden with this Clear Bloom Botanica Hummingbird Feeder with Perch.