BEST SELLER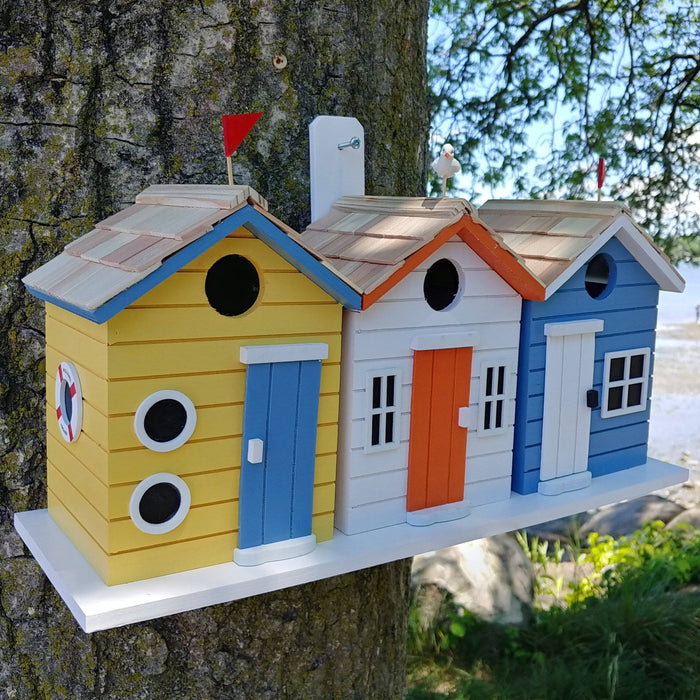 "I was so happy when my birdhouses arrived. They look exactly like the picture and arrived in perfect condition. I ordered two, 1 for myself and 1 as a gift. Both were perfect!" - Verified 5-star review from Karen M.
Brighton Beach Huts Birdhouse
Sold out
Original price
$99.99
-
Original price
$99.99
Brighton Beach Huts Birdhouse
A beach hut is a small, usually wooden and often brightly colored structure built above the high tide mark on popular bathing beaches generally used for storage, as a shelter and for changing into and out of bathing suits. Some beach huts incorporate simple facilities for preparing food and hot drinks. Our Brighton Beach Huts Birdhouse features none of the above! It does, however, feature three side-by-side nest boxes in red, white and aqua adorned with life preservers on each end. Included are beach pennants and an orange beaked gull to decorate the roofs. Avian residents will appreciate the unpainted interiors complete with drainage and ventilation. 1.25" openings will allow wrens, finches, chickadees and nuthatches to nest. Constructed of exterior grade ply-board, polyresin details, pine shingles for the roof and an outdoor, water-based, non-toxic paint. The convenient, swing-up paddle-board attached to the back allows you to hang this beautiful birdhouse anywhere.
Item Dimensions: 8.25" H x 17" W x 5.75" D 
FINELY HANDCRAFTED & BIRD FRIENDLY - Our bird houses are built using only the finest materials available with a painstaking attention to detail that can been seen throughout the construction of each bird house. Exterior grade plywood & cedar or pine shingles helps ensure this wooden bird house will keep the birds comfortable and safe in any climate and in any region.
EASY TO INSTALL, AND CLEAN - Start enjoying your bird house immediately. No building or frustration required on all small bird houses or large bird houses. We have designed our bird houses to be functional for the birds and the owners. An easy access to a clean out makes it easy to clean and keep your wild bird house looking great all year.
DESIGNED TO MAKE BIRDS HAPPY - Our decorative bird houses are fully functional and intended for outdoor use and is hand crafted. A 1.25" opening, ventilation, drainage, an unpainted interior. The shingles protect the house from the elements, giving the birds and the nest a comfortable home. We do not use any pressure treated wood or apply any harmful chemicals and use an outdoor, non-toxic, water based paint.
SUPERIOR QUALITY - You can see our hand crafted attention to detail and quality craftsmanship through our entire bird house collection. Birds love our eco tough bird house as they are designed for small nesting birds, such as wrens, finches, chickadees, nuthatches and titmice, and other common nesting birds.
NO RISK 1 YEAR WARRANTY – Our entire premium bird house collection is backed by a 1 year, limited replacement warranty along with a world class customer service. If for any reason you feel this product does not meet your expectations, within the first year, we will stand behind it, replace it or give you a full refund.