BEST SELLER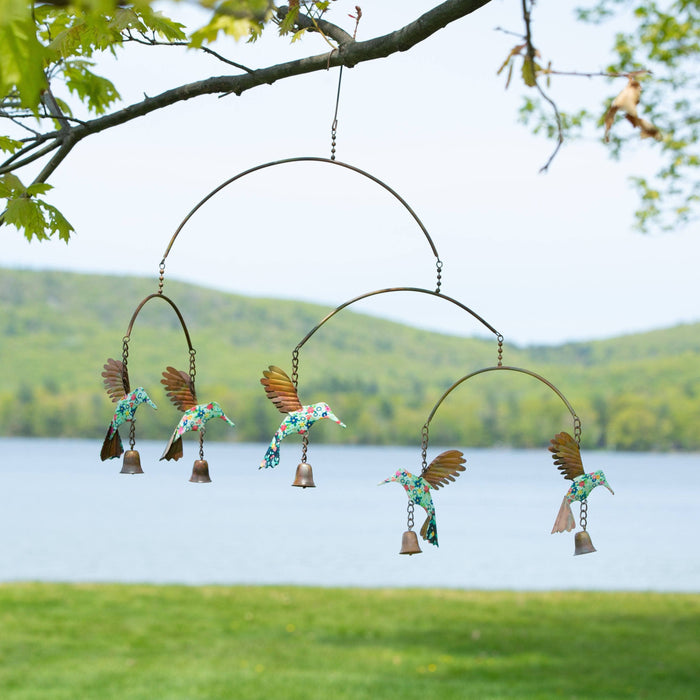 Floral Hummingbird Hanging Mobile
Sale
Sale
Original price
$75.99
-
Original price
$75.99
Floral Hummingbird Hanging Mobile
Invite five bright-and-cheery floral print hummingbirds to your outdoor space.

No luck with that hummingbird garden? Even if things never turn around, this garden feature can add not one but five hummingbirds to your outdoor space in an instant. Each bird is handcrafted and features a cheerful, classic floral-print body and flamed metal wings. There are also five fully-functional bells to ensure the birds always sing.

DIMENSIONS: 31" x 1.75" x 26"
MATERIALS: Handcrafted, flamed metal.
DETAILS: Quick, frustration-free installation.
Backed by our friendly, one-year warranty.

WHY WE LOVE IT: With their colorful bodies and classic wings, this group of hummingbirds features the best of both worlds.

SHIPPING DETAILS: Most orders arrive at your door within 7 to 10 days. You will receive a shipping confirmation email with a tracking number once your order ships. Please be sure to check your spam folder as sometimes our correspondence ends up there.

Happy Gardens guarantees that our products will arrive in good condition, without defects, or we will replace the product at our expense.

We are a family-owned business that works tirelessly to deliver unique garden decor to your doorstep. Dad runs the warehouse; son runs the website. (To quote Dad, "We're going as fast as we can! Promise!")