BEST SELLER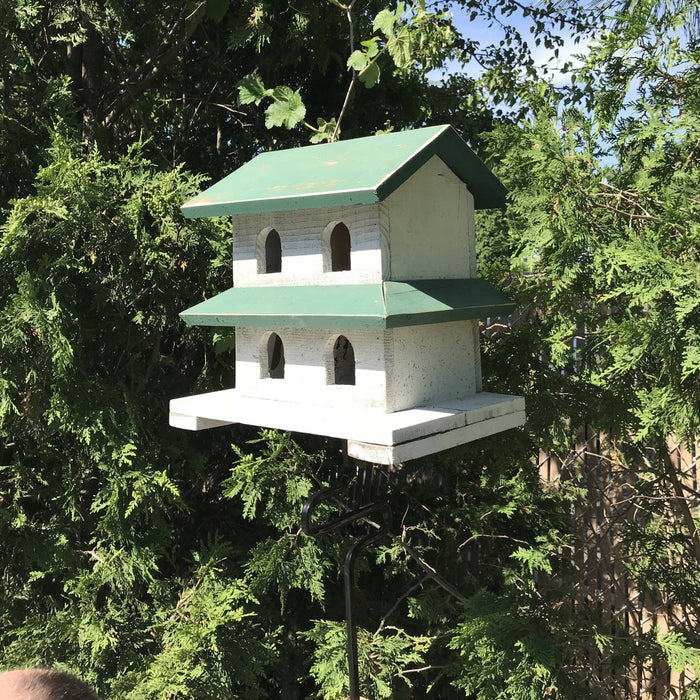 Hanover Birdhouse for Purple Martins
Sold out
Original price
$119.99
-
Original price
$119.99
Hanover Birdhouse for Purple Martins
MADE IN THE USA!
Purple Martins prefer housing that is placed in open areas with clear flyways.  Choose the center of the largest open spot available, about 30-120 feet from human housing and at least 40-60 feet from trees. Made of reclaimed recycled barn wood, this house will last for years to come. White with a green roof. This house has 4 holes and a clean out for annual spring cleanings and enjoy watching the birds
Hanover PA. is considered by many to be the snack food capital of the USA. Now it is time to make it the Hanover House for Purple Martins haven. When it comes to attracting Purple Martin's, it is all about location, location, location.

Item Dimensions: 15.5 "H x 16" W x 12.5" D
4 rooms
Hole: 2.125"
This line has been in existence for 2 years, and is all made from reclaimed Barnwood and recycled materials (tin, and other woods).
These are rustic pieces that are fully functional, and no two pieces are exactly alike! 
The Made in America flag can be waved very prominently on all of these products.
These birdhouses are made in Eastern PA, by the Amish, without the use of electricity (using pneumatic powered tools).
These are shipped directly from our amish factory in Lancaster County, PA!