BEST SELLER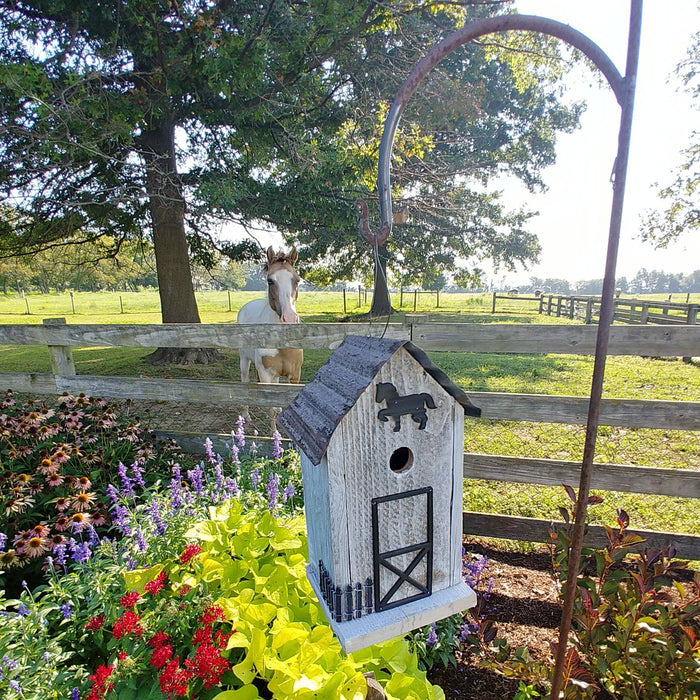 White Stable Birdhouse
Sale
Sale
Original price
$85.99
-
Original price
$85.99
White Stable Birdhouse - MADE IN THE USA!
The stable is typically the second-oldest building on the farm. And a place that horses require a shelter from wind and weather. As well as provide access to clean fresh water and adequate food supplies. Similar to birds, which also require protection from the elements for nesting and giving birth. The Stable Bird House is the perfect place for small cavity dwellers to make this their home. Hand crafted from reclaimed and recycled barn wood with a recycled tin roof, provides warmth and refuge.
Item Dimensions: 14" H x 9" W x 7.5" D 
Hole: 1.25"
This line has been in existence for 2 years, and is all made from reclaimed Barnwood and recycled materials (tin, and other woods).
These are rustic pieces that are fully functional, and no two pieces are exactly alike! 
The Made in America flag can be waved very prominently on all of these products.
These birdhouses are made in Eastern PA, by the Amish, without the use of electricity (using pneumatic powered tools).
These are shipped directly from our amish factory in Lancaster County, PA!
A clean out, ventilation and drainage gives birds a nice home to come back year after year. Decorated with a horse silhouette and white trimmed door and fence. Easy to hang on a fence, post, tree or under an eave. Available in red or white exterior.