BEST SELLER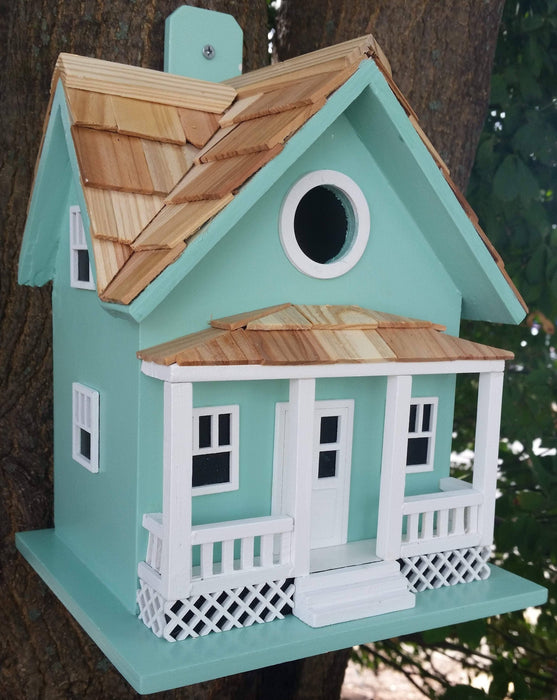 "I've had it up for about 5 weeks and it has held up through several bad storms. Gorgeous bird house!" - Cynthia T., - Happy Gardens Customer
Ocean City Bird House
Sale
Sale
Original price
$67.99
-
Original price
$67.99
Ocean City Bird House
You might find a classic cottage style beach house like this in Ocean City (both Maryland and New Jersey!!) This seafoam blue, two story house features a lattice detail under the front porch, perfect for birds who need to store their miniature beach chairs.
Our Ocean City Bird House is constructed of exterior grade ply-board with poly-resin details. This style is a fully functional birdhouse with removable back walls.
The convenient, swing-up paddle-board attached to the back makes hanging this beautiful birdhouse as easy as a walk along the seashore.
Item Dimensions: 9" H x 7.25" W x 6.5" D
FINELY HANDCRAFTED & BIRD FRIENDLY - Our bird houses are built using only the finest materials available with a painstaking attention to detail that can been seen throughout the construction of each bird house. Exterior grade plywood & cedar or pine shingles helps ensure this wooden bird house will keep the birds comfortable and safe in any climate and in any region.
EASY TO INSTALL, AND CLEAN - Start enjoying your bird house immediately. No building or frustration required on all small bird houses or large bird houses. We have designed our bird houses to be functional for the birds and the owners. An easy access to a clean out makes it easy to clean and keep your wild bird house looking great all year.
DESIGNED TO MAKE BIRDS HAPPY - Our decorative bird houses are fully functional and intended for outdoor use and is hand crafted. A 1.25" opening, ventilation, drainage, an unpainted interior. The shingles protect the house from the elements, giving the birds and the nest a comfortable home. We do not use any pressure treated wood or apply any harmful chemicals and use an outdoor, non-toxic, water based paint.
SUPERIOR QUALITY - You can see our hand crafted attention to detail and quality craftsmanship through our entire bird house collection. Birds love our eco tough bird house as they are designed for small nesting birds, such as wrens, finches, chickadees, nuthatches and titmice, and other common nesting birds.
NO RISK 1 YEAR WARRANTY – Our entire premium bird house collection is backed by a 1 year, limited replacement warranty along with a world class customer service. If for any reason you feel this product does not meet your expectations, within the first year, we will stand behind it, replace it or give you a full refund.
Don't forget to also check out our unique bird bath collections, and unique bird feeders collection.
Also see these very similar products: